Black Gate Online Fiction: "The Highwater Harbor" Part Two, by Aaron Bradford Starr
Black Gate Online Fiction: "The Highwater Harbor" Part Two, by Aaron Bradford Starr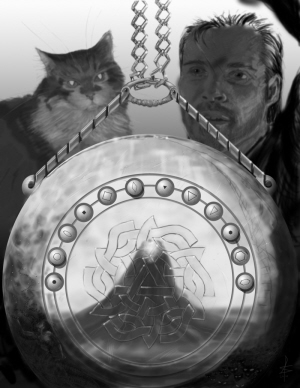 Gallery Hunters Gloren Avericci and Yr Neh find more than they bargained for as their sea voyage in search of the enigmatic Highwater Harbor becomes embroiled in strange intrigues.
"Your ship is in danger," Gloren said without preamble. "Someone has been tampering with the sigils, altering them subtly so that they may very well not work at all."

Pelico's face darkened at this news. "Are you sure?"

Yr Neh told the Captain the general consensus we'd reached, that Fallon and his secondary crew were a growing danger.

To our surprise, Pelico burst out laughing at this revelation. "I can vouch for Fallon," he said. "I'd bet the life of every man on board of his reliability. In fact, given his crew has taken one out of four shifts, I already made that bet, and have won every time."

"Something's going on, Pelico," Gloren said. The Captain stood, laughing, clapping a mighty hand on Gloren's shoulder.

"Something's always going on when you gather scholars together," the man said.
Louis West at Tangent Online called "The Sealord's Successor" a "gripping tale of fantasy, mystery, murder and intrigue. A must read" and "The Tea-Maker's Task" "an entertaining, tongue-in-cheek fantasy… I wanted more." We're more than happy to oblige with this fourth exciting installment of the adventures of Gallery Hunter Gloren and his cat companion, Yr Neh.
The complete catalog of Black Gate Online Fiction, including stories by Jamie McEwan, Martha Wells, Mary Catelli, Michael Penkas, Vera Nazarian, Ryan Harvey, Nina Kiriki Hoffman, E.E. Knight, C.S.E. Cooney, Howard Andrew Jones, Harry Connolly, and many others, is here.
"The Highwater Harbor"  is a 35,000-word novella of fantasy mystery presented in three parts, with original art by Aaron Bradford Starr. Part I appeared last week; the final installment will appear next week; all three parts are offered at no cost.
Read Part II here.