Blogging Sax Rohmer's President Fu Manchu, Part Two
Blogging Sax Rohmer's President Fu Manchu, Part Two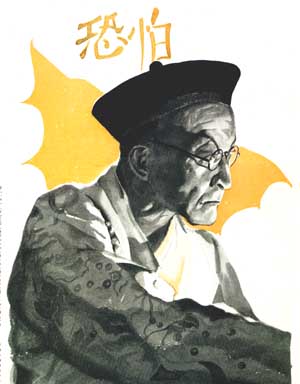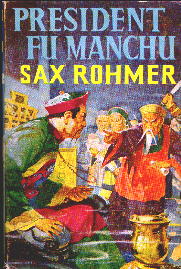 Sax Rohmer's The Invisible President was originally serialized in Collier's from February 29 to May 16, 1936. It was published in book form later that year by Cassell in the UK and Doubleday in the US under the title President Fu Manchu. The novel is the first in the series to fictionalize real events with characters based on familiar figures in the US in the 1930s such as Huey Long and Father Charles Coughlin. More than one critic has noted the story may have influenced the classic Cold War conspiracy thriller, The Manchurian Candidate.
The hotel where Sir Denis Nayland Smith and his FBI counterpart, Mark Hepburn, are staying is thrown into a panic over the unexpected arrival of James Richet, Abbot Donegal's secretary, who is wanted by the authorities as a member of the Si-Fan. Richet arrives by taxi outside the hotel before collapsing. His corpse is discovered inexplicably covered with mysterious red spots.
When first introduced, Richet came under suspicion for no better reason than Smith detecting Eurasian blood in his background. Strangely, Smith's valet Fey is also Eurasian and while other characters sometimes express doubts concerning Fey's loyalty, Sir Denis never questions it. One wishes that Rohmer would have given Smith a more concrete reason to suspect Richet other than racial profiling.
The frequent cross-cutting to Fu Manchu manipulating events and plotting from his base in Chinatown without ever interacting with Smith and Hepburn continues to make the narrative play more like a radio script than a traditional Fu Manchu thriller. The revelation that Fu Manchu's chief of staff is Sam Pak, a minor character from the earliest books in the series, is a good one, but Rohmer no sooner reveals this to the reader than he has Sir Denis explain the same information to Hepburn without ever explaining how he learned this fact.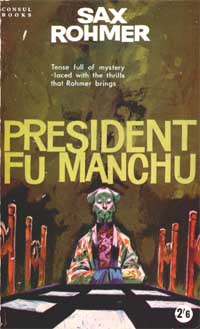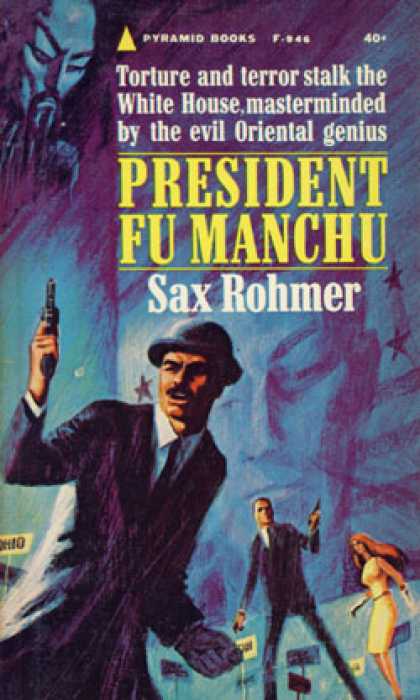 Worse still is Fu Manchu's interaction with Mafia members who talk like Damon Runyon characters. The concept of the ailing Si-Fan forging a difficult alliance with the Mafia is a good one, but at no point do these cardboard mobster characters seem like worthy allies of Fu Manchu.
Likewise, the resolution to the mysterious red spots on Richet's corpse plays out with surprisingly little drama. The Scarlet Brides are tiny spiders, deadlier than tarantulas, that Fu Manchu has had imported to liquidate his enemies. Rohmer is obviously hoping for a repeat of "The Zayat Kiss," but as with much of the story, the hastily constructed plot wastes a solid concept by failing to develop it to its full potential.
Rohmer takes a bit more care in starting to build his sub-plot as Fu Manchu dispatches Moya Adair (the other member of Abbot Donegal's staff wanted by the authorities for her involvement with the Si-Fan) to seduce progressive presidential candidate Harvey Bragg. The womanizing and charismatic politician is already attached to another Si-Fan agent, Lola Dumas (an alleged descendant of the famous author of swashbuckling classics that inspired Rohmer as a boy). All of this backstory is hurtled quickly at the reader and one has to struggle to recall that while the late James Richet used to work with Moya Adair, we were informed he was in love with Lola Dumas, although we had not yet met her in the narrative.
The reader learns that Moya fears Lola and resents being forced by Fu Manchu into a situation where Lola is sure to feel threatened by the attractive young widow and retaliate. The reader also learns that, in the time-honored tradition, Mark Hepburn has fallen in love with Moya after only speaking to her twice. Rohmer has found a clever way to recast the roles of Fah lo Suee (killed off in the last book) and Karamaneh and allow these archetypes to interact for the first time. They are, respectively, his patriarchal vision of nubile women as either whore or virgin in the same fashion that Princess Aura and Dale Arden were to Alex Raymond.
One cannot help wishing Rohmer had paid more attention to the novel's construction, as it has all the makings of an excellent thriller. The halfway point of the novel moves toward the presidential debate at Carnegie Hall, where a drugged Dr. Orwin Prescott is to be released from Fu Manchu's captivity to challenge Harvey Bragg. Their debate is also where Bragg's right-hand man, union thug Herman Grosset, will strike, for Gosset has been programmed by Fu Manchu to assassinate Dr. Prescott when he speaks the word "Asia."
The reader learns from the frequent Chinatown interludes that Abbot Donegal has managed to escape captivity. We never learn how, as Rohmer does not dramatize this critical scene, nor is Nayland Smith yet aware he is free. Once again, Rohmer's hastiness in delivering serialized installments of the book have drained the suspense from what should have been a nail-biting race against time as all three chess pieces converge on the game Fu Manchu is playing with the future of the United States.
---
William Patrick Maynard was authorized to continue Sax Rohmer's Fu Manchu thrillers beginning with The Terror of Fu Manchu (2009; Black Coat Press) and The Destiny of Fu Manchu (2012; Black Coat Press). Next up is a collection of short stories featuring an original Edwardian detective, The Occult Case Book of Shankar Hardwicke, The Triumph of Fu Manchu, and a hardboiled detective novel, Lawhead. To see additional articles by William, visit his blog at SetiSays.blogspot.com