Sword and Soul Revisited
Sword and Soul Revisited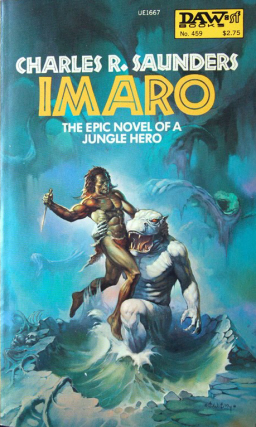 Five years ago, I embarked on a writing and publishing journey, finally fulfilling a lifelong dream. By doing so, I unknowingly became a part of a legacy that began long before I decided to set fingers to keys to write my first novel.
Decades earlier, Charles R. Saunders sat before a different type of keyboard to create a character that added an important perspective to sword and sorcery, Imaro.  His motivation was similar to mine, although we came to the same conclusion years apart.
After falling in love with Robert E. Howard's Conan and other stories and heroes that comprised Sword and Sorcery, he began to see the inequities. So to rectify the situation, he created Imaro, a man whose skills rivaled that of Conan's, but whose world was grounded in African culture, history, and tradition.
My journey was sparked in a similar way, leading me to create my first Sword and Soul novel, Meji. Meji is a celebration of the diversity of the African continent, told through the story of twin brothers Ndoro and Obaseki.
It was coincidence that Charles and I were sparked to create characters from the same source; but it was fortuitous that we met through a mutual friend. It was Charles's positive review of my Meji manuscript that convinced me that my decision to self-publish was the right thing to do.
But enough about me.  What's been happening with Sword and Soul in the five years since my publishing company MVmedia hit the ground running?
A hell of a lot.
[Click on any of the images in this article for larger versions.]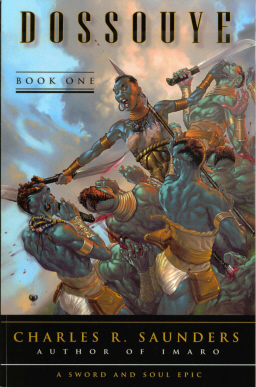 When I published Meji in 2008, the only person I was aware of writing Sword and Soul was Charles. That year, he released Dossouye through Sword and Soul Media, the publishing company owned by our mutual friend, Richard Tyler.
His previous novels, Imaro and Imaro 2: The Quest for Cush, were re-released by Nightshade books in 2006 and 2007.
In 2009, I released Meji Book Two and Charles followed with Imaro Three the same year.  This growth in Sword and Soul was possible due to independent publishing and social networking.
In the late '70s and early '80s, Charles was at the mercy of mainstream publishing. Smaller publishers were falling by the wayside as larger publishers consolidated the market. There was little room for books published because of their potential and not much effort put into marketing any publication.
To be honest, if I had pursued publishing during that time, I probably would have been disappointed.  The thought of marketing books to a demographic that 'doesn't read' would have been laughed at.
But with today's technology, not only is it possible to publish independently, it's also easy to focus efforts on a niche within a niche, a market within a market.
2010 saw the release of my novel, Changa's Safari, a different take on the Sword and Soul genre. Up to this point, the stories released were based on imaginary worlds created with an African influence. Changa's Safari takes place during the 15th century, a time when many African civilizations were at their zenith.
It was also during this time that other writers began to express their desire to pen sword and soul stories and in some cases, revive stories they'd written long ago that fit into the genre's broad definition. Charles Saunders and I decided to team up and produce an anthology that would act as an outlet for this new creativity and energy.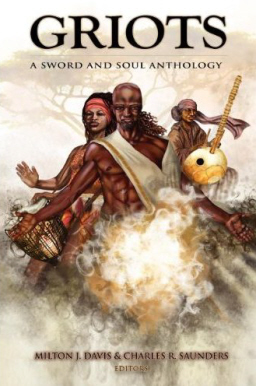 The announcement was made and the stories poured in. It seems that African-based fantasy was on many writers' minds, some inspired by Charles's work, some that had been written decades ago. 2010 also saw the release of Timbuktu Chronicles, a Sword and Soul novel by Anthony Kwamu.
Sword and Soul continued to expand in 2011. Charles Saunders saw the release of Imaro Four. Griots, our anthology, finally saw its release as well.  A first of its kind, Griots was well received by hard core sword and sorcery fans and sword and soul fans alike.
2012 was a significant year for MVmedia. Sales doubled from the previous year, mainly due to the release of our titles on e-book. Many readers are reluctant to try new authors and genres, but the low price of e-books makes the 'risk' easier to handle.
The availability of e-books also takes away the shipping barrier of selling books internationally. MVmedia released Changa's Safari Volume Two, the sequel to the first Changa adventure.
Another milestone was reached by MVmedia in 2012. We release Once Upon A Time in Afrika, the first Sword and Soul novel by Balogun Ojetade and the first novel produced by an author other than me.  The second Dossouye novel by Charles, Dossouye: The Dancers of Mulukau, was published by Sword & Soul Media. Work also began on the follow up to Griots. Griots: Sisters of the Spear, was announced and submissions received.
2013 has begun with promising results. Three months into the year and we have reached half the sales of the previous year.  At the current pace, we are sure to sell 1,000 books this year, a milestone for a small publisher.
The year began with the release the Ki Khanga anthology, a collaborative effort between me and Balogun Ojetade. The anthology is a collection of stories based on the world of Ki Khanga, a world created for the foundation of the first Sword and Soul role playing game.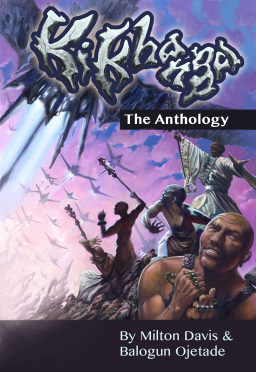 This year also noted the release of three Sword and Soul based graphic novels; Sword and Soul Adventures by Kris Mosby, The Chronicles of Piye by Richard Gaskin and Chris Miller, and Dusu: Path of the Ancient by Sebastian A. Jones and Christopher Gardner.
Coming this month will be the release of Woman of the Woods, my first novel with a female hero. Griots: Sisters of the Spear won't be far behind and if all goes as planned, expect the release of Charles Saunders's new series, Abengoni, late this year or early next year.
But that's not all. Another author has thrown his hat into the Sword and Soul ring. C. Michael Forsyth's new novel, The Blood of Titans, will be released this year. It's a Sword and Soul action/romance with cover art by none other than Mshindo Kuumba I.
So Sword and Soul continues to grow. There are other projects in the making that I haven't mentioned by young writers that will surely carry on the legacy far into the future.
The one thing the years have proved to me is that this is a subgenre that was meant to be. Maybe there will be a time where there won't be a need for a different genre to give opportunity.
I know the readers embrace the variety; maybe one day mainstream publishers will as well. Until then and after then, Charles, myself, and others will continue to create fantastic stories. It's what we love to do.
It's what we have to do. Sword and Soul Forever!
---
Read Charles R. Saunders' 2009 tribute to Milton Davis, "My Sword-and-Soul Brother," right here at Black Gate.