Last Chance to Win One of Four New Copies of the Unearthed Arcana 1st Edition Premium Reprint
Last Chance to Win One of Four New Copies of the Unearthed Arcana 1st Edition Premium Reprint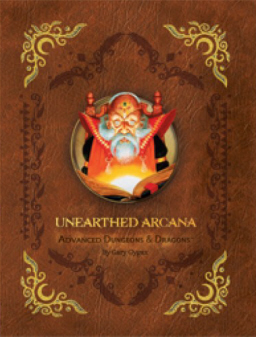 Two weeks ago, we announced a contest to win one of four new copies of the Unearthed Arcana 1st Edition Premium Reprint, compliments of Wizards of the Coast.
How do you enter? Easy — by doing exactly what you're doing already: telling complete strangers all about your D&D adventures.
Just send an e-mail to john@blackgate.com with a one-paragraph summary of your most memorable D&D or AD&D characters. Points will be awarded for conciseness and originality. We'll publish the best here at Black Gate, and the Top Ten as decided by our judges will be included in a drawing for one of four copies of the new Unearthed Arcana 1st Edition Premium Reprint.
These WotC Premium Reprints have become quite the hot property, incidentally. The first three — the Players Handbook, Dungeon Masters Guide, and Monster Manual — are already sold out and out of print, and I strongly suspect the same will happen to this one. The upcoming volume Dungeons of Dread is perhaps the most interesting one yet, as it collects the first four adventures in the S Series — Tomb of Horrors, White Plume Mountain, Expedition to the Barrier Peaks, and The Lost Caverns of Tsojcanth — complete with the original b&w interior art.
All entries become the property of New Epoch Press. No purchase necessary. Must be 12 or older. Decisions of the judges (capricious as they may be) are final. Terms and conditions subject to change as our lawyers sober up and get back to us. Not valid where prohibited by law. Or anywhere postage for a hefty hardcover is more than, like, 10 bucks. Good luck!