Win One of Four New Copies of The Unearthed Arcana 1st Edition Premium Reprint!
Win One of Four New Copies of The Unearthed Arcana 1st Edition Premium Reprint!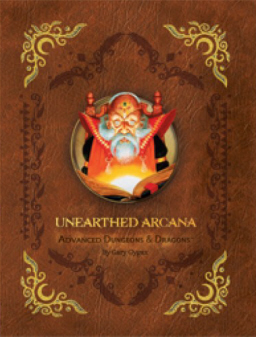 Wizards of the Coast has offered us four new copies of The Unearthed Arcana 1st Edition Premium Reprint as giveaways. Is this a great country or what?
Until last week, Gary Gygax's seminal Advanced Dungeons & Dragons rule book Unearthed Arcana — which introduced the Cavalier, Barbarian, and Thief-Acrobat classes, among many other earth-shaking changes — had never been reprinted. This premium reprint incorporates the many corrections and updates published in Dragon magazine, making it the definitive edition. We first covered the release on Thursday and the excited discussion still continues in the Comments. Here's what Seven Kings author John R. Fultz has to say:
The release of Unearthed Arcana changed everything. Suddenly we had new spells! Weapon Specialization! Barbarians and Cavaliers! One of the greatest long-term campaigns I ever ran centered around two players that exemplified the classic "buddy-cop" paradigm, although they were opposites: Lystoke the Cavalier and Braigore the Barbarian. One was all about civility and the martial code of honor, the other was a Chaotic Neutral ass-kicker who took no prisoners. Together they made a legendary team… at one point they kicked Mammon's ass, drove him back to Hell, and plundered his treasure room. Ah, memories.

Oh, I almost forgot one of the other major game-changers from Arcana: Tons of new Magic Items!!! First Edition just isn't the same without this book.
How do you win a copy? Easy! Just follow in John's footsteps and send an e-mail to john@blackgate.com with a one-paragraph summary of your most memorable D&D or AD&D characters. Points will be awarded for conciseness and originality. We'll publish the best here at Black Gate, and the Top Ten as decided by our judges will be included in a draw for one of four copies of the new Unearthed Arcana 1st Edition Premium Reprint, compliments of Wizards of the Coast.
All entries become the property of New Epoch Press. No purchase necessary. Must be 12 or older. Decisions of the judges (capricious as they may be) are final. Sorry, US entrants only. Not valid where prohibited by law. Eat your vegetables.