Vintage Treasures: The Empire of Fear by Brian Stableford
Vintage Treasures: The Empire of Fear by Brian Stableford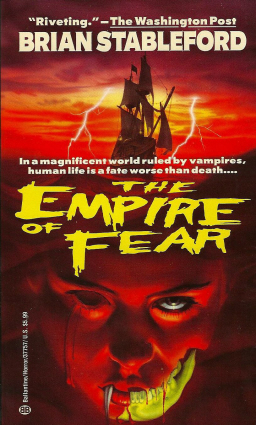 Last week's Bram Stoker Awards nominees — not to mention all the recent chatter about horror and dark fantasy on this blog, from Matthew David Surridge's investigation of Rebecca to my Saturday piece on Adam Nevill's Last Days — has gotten me to thinking about the major horror novels of my youth. One of the most frequently discussed and passed around was Brian Stableford's vampire epic The Empire of Fear.
England in the seventeenth century is a land ruled by the Undead, an empire upon which the sun never rises. Feared and envied, worshipped and despised, Richard the Lionheart and his aristocracy of vampires rule with terror and the darkly-seductive promise of life eternal for the lucky few. For centuries it has been thus. But now, even in the very shadow of their vampire masters' tyranny, mortal resistance is brewing.

Edmund Cordery, member of the cabal pledged to penetrate the mysteries of the vampires and destroy them, strikes the first blow. But it will fall to his son, Noell, to carry on the crusade of human against inhuman. And it will fall to those who come after Noell to keep the struggle alive for over three centuries — from England to Malta to modern-day America, where destiny will decide finally whether the forces of horror or humanity will hold sway over all…
For short fiction fans, The Empire of Fear grew out of the author's "The Man Who Loved the Vampire Lady," a novelette in the August 1988 Fantasy & Science Fiction. Stableford was one of the most ambitious horror writers of the late 80s and early 90s, especially with work such as his well-regarded Werewolf trilogy (starting with The Werewolves of London, 1990). Having covered werewolves and vampires, Stableford completed the triumvirate of classic monsters in 2008 with The Shadow of Frankenstein, the first of The Empire of the Necromancers trilogy.
The Empire of Fear was published in paperback by Ballantine Books in October 1993 (hardcover edition 1988). It is 469 pages, with an original cover price of $5.99.