New Treasures: The Eye of the World: The Graphic Novel, Volume 3
New Treasures: The Eye of the World: The Graphic Novel, Volume 3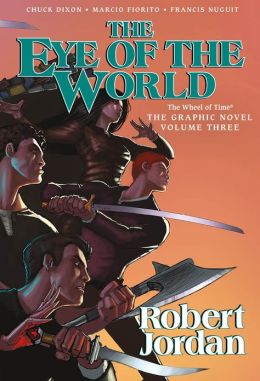 No, you're not a bad person because you prefer to wait for the comic versions of major bestelling fantasy series. I'm right there with you. We are what the world has made us, and it's not our fault.
It's especially not our fault that the world keeps throwing all these enticing graphic novels our way. The latest series to catch my eye has been The Eye of the World, the ambitious adaptation of the first novel in Robert Jordan's 14-volume, 10,000+ page fantasy epic The Wheel of Time.
This isn't the first Jordan comic project. New Spring, based on his 2004 Wheel of Time prequel novel, was published by Tor in 2011 and became a New York Times bestseller — a pretty good indicator that more would be in the works. (It's currently heavily discounted at Amazon.com.)
The first volume of the comic version of The Eye of the World was released in 2011; volume two in June of last year. Chuck Dixon, who also scripted New Spring, returned for this project; with this volume he's paired with new artists: Marcio Fiorito, illustrator of Anne Elizabeth's Pulse of Power, and Francis Nuguit, a comic-book illustrator from the Philippines.
Volume 3 collects issues thirteen to eighteen of the ongoing series published by Dynamite comics. It finds our heroes — Rand, Mat, Perrin, Egwene, Moiraine, Lan Mandragoran, and the rest — split into three groups while fleeing the ancient, dead city of Shadar Logoth. Pursued by the deadly Mashadar, Perrin and Egwene attempt a dangerous river crossing and encounter a mysterious stranger, while Rand and Mat disguise themselves as apprentices on a cargo ship.
The Eye of the World: The Graphic Novel, Volume 3 was published by Tor Books on January 29, 2013. It is 176 pages in hardcover, priced at $24.99. There is no digital edition.