Black Gate Online Fiction: "The Tea-Maker's Task" by Aaron Bradford Starr
Black Gate Online Fiction: "The Tea-Maker's Task" by Aaron Bradford Starr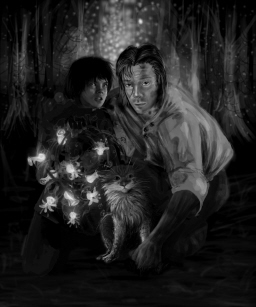 Gallery Hunters Gloren Avericci and Yr Neh, last seen in "The Daughter's Dowry" (published here on October 14), accept  a dangerous commission to investigate a deadly island:
Herrion's eyes gleamed. "I'd like for you to return to where you found that book, and search the area for signs of the vine."

"I'm not a botanist," I objected. "You'd be better off hiring someone who is."

"You make a good point. I'd like for you to escort my apprentice, Kemp. He will identify the vine."

"The forests of Candelon are dangerous," I said, uncertain. Herrion smiled.

"Ah! I see you are learning your craft!" Herrion laughed. "You will be well compensated."

"No," I objected, "the woods really are dangerous. There's some sort of creature –"

"The Walker of the Woods," the man said. "I've heard the tales. Have you seen this creature?"

"Well, no, but –"

"It's settled, then. I'd like to hire you for three silver every day."

I tried, unsuccessfully, I'm afraid, not to goggle. I had not seen a Silver Eye for longer than I could admit. Herrion, to his credit, closed his eyes, sipping once more.

"Drink up," he said.
Of "The Daughter's Dowry," Tangent Online said, "A story such as this deserves a world of its own and more adventures from its hero." We're more than happy to oblige with this latest exciting installment.
You can see the complete catalog of Black Gate Online Fiction, including stories by Mark Rigney, C.S.E. Cooney, Donald S. Crankshaw, Aaron Bradford Starr, Sean McLachlan, Harry Connolly, and Jason E. Thummel, here.
"The Tea-Maker's Task"  is a complete 9,000-word novelette of heroic fantasy offered at no cost, with original art by Aaron Bradford Starr.
Read the complete story here.