Buy The Desert of Souls by Howard Andrew Jones for Just $1
Buy The Desert of Souls by Howard Andrew Jones for Just $1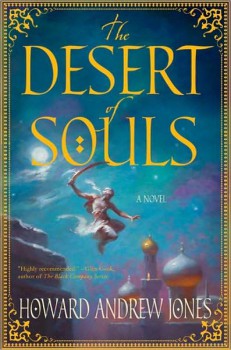 'Tis the season for great book deals.
Hot on the heels of the one-day $1.99 sale for the digital version of A Prince of Thorns, and the giveaway of Theo's A Magic Broken (still available if you act fast) comes word that Head of Zeus, the British publisher of Howard Andrew Jones' The Desert of Souls — the first installment of The Chronicles of Sand and Sword — is making the digital version of the novel available for just $1.
The special pricing is available only until January 7th. On his website Howard also writes:
Head of Zeus has cooked up a pretty nifty series introduction for The Chronicles of Sand and Sword. I like it so much I wish I'd thought of it:

The Chronicles of Sand and Sword: Baghdad, AD 790. Caliph Harun al-Rashid presides over the greatest metropolis on Earth, ruler of an empire that stretches from China to Byzantium. His exploits will be recorded in Alf Layla or, as we know it, The Book of One Thousand and One Nights.

But The Thousand and One Nights are silent on the deeds and adventures that befell two of the Caliph's subjects: the renowned scholar Dabir ibn Kahlil, and his shield and right hand, Asim el Abbas. For their story, we must turn to The Chronicle of Sand and Sword…
For complete details and links to sites with the discounted pricing (including Amazon.co.uk and Waterstone's) visit the Head of Zeus website here.