Pro Se Presents – the Eclectic Voice of New Pulp
Pro Se Presents – the Eclectic Voice of New Pulp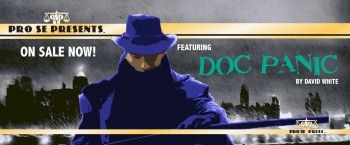 Pro Se Press is one of several New Pulp specialty small presses that have sprung up over the past few years to give voice to new writers. While Pro Se publishes pulp novels like their peers, they have largely set themselves apart in the field by also publishing a monthly print magazine, Pro Se Presents. Issue 15 was just published and presents five diverse examples of New Pulp from five very talented writers. The periodical is also published as an e-book each month and is affordably priced in keeping with traditional pulp titles of decades past – something most small presses are unable to otherwise do thanks to the economics of print on demand or small print runs.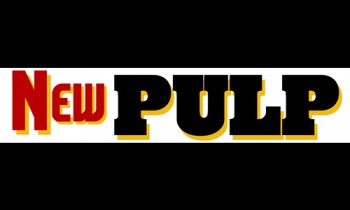 Sean Ali's striking cover art and moody interior illustrations do an excellent job of capturing the unique feel of each tale. The magazine's stellar editorial staff [Tommy Hancock, Lee Houston, Jr., Frank Schildiner, Barry Reese, and Don Thomas] has done an excellent job of capturing the mix of genres that were found under the pulp banner in the heyday of the 1920s and 1930s. From a modern standpoint, there is a bias to favor the superhero prototypes (such as Doc Savage, The Shadow, The Spider, etc.) or the more famous offshoots of the pulps, the hardboiled detective and the sword & sorcery barbarian hero. This tends to shortchange the many boxing stories, westerns, romances, and humorous tales that were also staples of the pulp world. Happily, Pro Se Presents restores this balance.
Issue 15 gets underway with David White's "Doc Panic." While the title may recall Doc Savage, White has crafted more than the simple knock-off it might suggest in this clever blend of pulp archetypes and Japanese martial arts. Phineas Montgomery is the man behind the mask. An heir to a fortune, Montgomery grew up scarred as a witness to his Satanist parents' murderous rituals involving the human sacrifice of abducted children and derelicts. A Japanese servant stole young Montgomery away from his parents' house of madness and smuggled him to Japan, where the boy was trained in the arts of Ninjitsu and Akido. Along the way, the young man also picked up an addiction to certain illegal powders that help him manage his pain. White has achieved an interesting balance between the masked vigilantes of the Golden Age and the Men's Adventures paperback originals of the 1970s with their mix of martial arts and gritty urban crime. There is little doubt that this is only the first of many appearances for the character. White has stumbled upon a winning formula here that makes Doc Panic a character worthy of commanding the cover slot for his debut.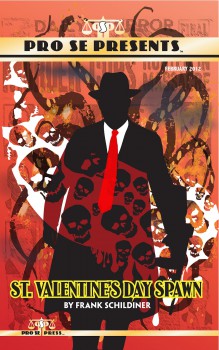 "Back in Black" by Brad Mengel offers a decidedly modern take on the masked vigilante formula with the introduction of the unique double act of Noir and the Silhouette. Noir's career as a crime fighter was cut short when he was left crippled for life, after his spine was broken by a gang of thugs. Mengel's treatment of the plight of a hero who lost abilities most people take for granted rings true and brings a welcome note of realism to the genre. Adding to the drama is Noir's discovery that the Silhouette, the vigilante who inspired him to follow on the same path, is actually his girlfriend and fellow martial arts student. Noir has to battle not only to overcome his physical disabilities, but also his clinical depression. The Silhouette likewise has to deal with guilt over her callous treatment of Noir following his accident and grief over her father's unsuccessful fight against skin cancer. As with White's story, Mengel turns to martial arts as the solution. Baritsu allows Noir to overcome his physical and psychological limitations and by the time the story wraps up. With Noir and the Silhouette established as underdog characters readers feel genuine empathy for, you're eager to see where Mengel will take them from here. This is another winner of a story that revitalizes the classic pulp formula via a contemporary update.
"Lt. Picard and the Holy Grail" by Aaron Smith is the latest case in this police procedural series. Marcel Picard was a former pro hockey player in his native Canada before winding up a police lieutenant in New Jersey. The case is one that takes Picard back to his professional roots as the Holy Grail he is searching for is the Stanley Cup. Social media plays a critical role in solving the mystery. This is my first exposure to Picard's investigations, so I am unsure if they are all so light-hearted. This reads like Donald Westlake dropping by to write an installment of Ed McBain's 87th Precinct series. If this entry is typical of the Picard stories, then they are evidently dependent on sharp characterization, quirky plots, and witty dialogue. This shatters most people's preconceptions of classic pulp, but it makes for fine reading that stretches the boundaries of what the form can achieve. The story is a treat in every sense.
"Requiem for the Cold, Dark Cookie of the Corporate Sales Department" by Adam L. Garcia achieves an overtly satirical tone with a murder-mystery set in the office world of the late 1980s. If Garcia's title evokes Harlan Ellison or Douglas Adams, the reader will not be far off. Much of the humor is politically incorrect (but accurate for the time period), ridiculously warped, and frequently laugh-out-loud funny. Any murder-mystery built on targeting victims with peanut allergies is a winner. This reads like a 1980s version of The Office garnished with heavy dollops of gallows humor. And yes, despite the rampant comedy, Garcia plays fair with the whodunit aspects of the story. This was a deft piece of fiction that deserves greater attention. Garcia's talents easily reach beyond genre constraints. I've read and enjoyed his pulp stories before, but this reveals literary ability that stretch above and beyond the pulp world. Garcia is definitely a writer to keep an eye on.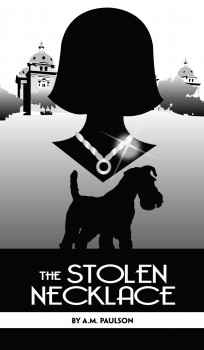 "The Stolen Necklace" by A. M. Paulson is the delightful concluding story in this issue and is even more off-beat than its predecessor. Sean Ali's illustration can't help but recall Herge's The Adventures of Tintin, but Paulson has done something clever with the terrier narrator for the mystery. Best of all is the fact that Joan, the delightful narrator, is even more waspish than Snowy. Highly sensitive about her stature, Joan has little patience for the humans who continually fail to correctly interpret her every bark and behavioral change. Paulson starts out amusing and then gets the first of many belly laughs with a real howler built on dogs being color blind. I'll admit to being unfamiliar with the author, but this rollicking mystery has all the sophisticated style and innocent, but naughty, fun of the screwball mysteries of the 1930s and 1940s. Most remarkably, Joan is one old dog who can learn new tricks. It would be easy to see Paulson getting more mileage out of this unique narrator. The setting and personality of Joan and her environment are rich enough to warrant the pooch's welcome return.
The only area lacking in Pro Se Presents is the absence of author bios or an editorial piece introducing the issue's contents. Likely this is a decision predicated on expense and scheduling constraints, but it is the only thing that could improve this excellent magazine. Give Pro Se Presents a try if you haven't done so already. It really isn't just another pulp title.
---
William Patrick Maynard was authorized to continue Sax Rohmer's Fu Manchu thrillers beginning with The Terror of Fu Manchu (2009; Black Coat Press). A sequel, The Destiny of Fu Manchu was published earlier this year by Black Coat Press. Next up is a collection of short stories featuring an Edwardian detective, The Occult Case Book of Shankar Hardwicke and a hardboiled detective novel, Lawhead. To see additional articles by William, visit his blog at SetiSays.blogspot.com