Venture, March 1957: A Retro-Review
Venture, March 1957: A Retro-Review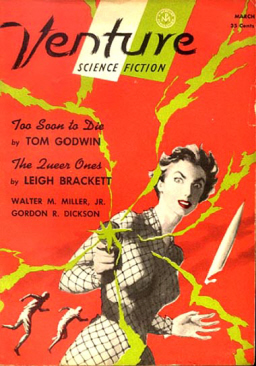 Another magazine from 1957, at the cusp of the Space Age, though this one appeared several months before Sputnik. Venture was a companion magazine to F&SF, intended to focus on pure Science Fiction. Ten bi-monthly issues appeared beginning in January 1957. It was revived in 1969, and six quarterly issues appeared from May 1969 through August 1970. I've always thought it a shame they couldn't (it would seem) make a go of it, though I must say I'd never read a copy until now.
The look and feel of the magazine is similar to F&SF: 132 pages (including the covers), same font and column layout. Unlike F&SF, there are interior illustrations (by John Giunta). There are no features except for a sort of editorial (called "Venturings") on the inside front cover.
The cover illustration, for Leigh Brackett's "The Queer Ones", is by Dick Shelton and it's a bit odd: in two colors (red and olive green, plus black and white), showing a woman shooting a sort of raygun. It does accurately (if in a slightly symbolic way) depict a scene from the story.
As I said, no features, so let's get right to the fiction. The stories are:
"Too Soon to Die" by Tom Godwin (15,100 words)
"The Lady was a Tramp" by Rose Sharon (6,700 words)
"Friend for Life" by Gordon R. Dickson (5,200 words)
"The Queer Ones" by Leigh Brackett (14,000 words)
"Blind Alley" by Charles L. Fontenay (2,600 words)
"Vengeance for Nikolai" by Walter M. Miller, Jr. (7,700 words)
The Godwin and Brackett pieces were listed as "novelets", consistent with the then common* practice of putting the dividing line at about 10,000 words. (A sensible practice, I say! And then call "novellas" short novels instead, beginning at about 20,000 and extending to perhaps 50,000 words.)
(*Common at, say, Astounding and F&SF. Galaxy called stories of 6,000 words novelettes, and some of the pulps called stories of as short as 10,000 words "complete novels".)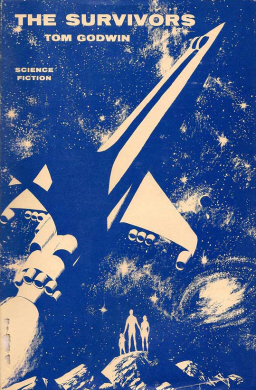 "To Soon to Die" is the story of a group of humans from a colony ship that was intercepted by a ship of the Gern Empire, aliens at war with humans. (Actually, the story portrays this incident as the precipitating factor in escalating the formerly "cold" war between Gerns and Humans into a "hot" war.) The Gerns took the most qualified humans prisoner, but marooned the "Rejects" on what they called an "Earth-Type" planet. The supposedly "Earth-Type" planet, of course, turns out to be a "hell-world", called Ragnarok, with 1.5 g's, long and fierce seasons, inimical local fauna, and a terrible disease that kills many of the humans.
The story follows several human generations as they struggle to survive, often failing, the population dropping to 200 or so, but then adapt and hatch a scheme to lure the Gerns back and take revenge. It's all a bit preposterous, but kind of fun too. I didn't believe most of it, but I did like reading it.
I haven't read Godwin's one novel, The Survivors, but I know enough about the book to recognize that it is an expansion of "To Soon to Die." Can anyone say whether it adds much to the novelet?
The first thing I thought when reading Rose Sharon's "The Lady Was a Tramp" was, gee, "Rose Sharon" sure seems like a pseudonym! And sure enough it is – "Rose Sharon" was Judith Merril.
I'm not sure why she used a pseudonym for this story – she collected it only three years later under her own name. According to the ISFDB, it's the only time she used a pseudonym for a solo work. (Of course, she and Cyril Kornbluth published two novels ("Mars Child," aka Outpost Mars, aka Sin in Space; and Gunner Cade) under the rather transparent pseudonym "Cyril Judd".
Anyway, "The Lady Was a Tramp" is about a talented graduate of the Space Academy, an IBMan (a curious term to our ears, apparently a computer programmer for the navigation system of the ship) named Terry Carnahan, who has been assigned not to a gleaming new Space Navy Transport, but to a creaky "tramp steamer" sort of ship, the Lady Jane.
He is disgusted by this, and even more disgusted to learn that of the crew of five, one is a woman, the Medical Officer, who seems to freely offer her body to everyone on the ship. It turns out (not surprisingly) that this is part of her duty as Medical Officer – to keep the men on the ship psychologically in good shape.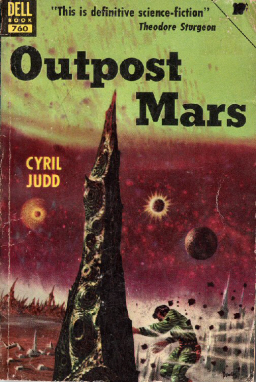 A horribly sexist idea, to my mind. Terry must either come to terms with this idea, or flush out of the service … Obviously, one thing going on here is conflating Terry's feelings (and those of all the crewmen) for the ship (called a lady, obviously) with the Medical Officer. And both are, I guess, tramps. More sexism, I think! Maybe I missed something, maybe Merril was being satirical, but this story doesn't work for me.
"Friend's Best Man" is a Gordon Dickson sociological set-up story … really a very Campbellian sort of thing. (In fact, the Godwin and "Sharon"(Merril) stories both read to me as if they might have been aimed at Campbell, as well.) A rich man comes to an isolated frontier planet to meet an old friend, and learns that the friend has been murdered by a local nogoodnik. And that despite the dead man being universally popular, the nogoodnik largely reviled, and the facts of the case not being in dispute, nothing is being done about it.
The reason soon becomes obvious – the planet is labor-starved, and they can't afford to lose the work done by the bad guy. The only solution is for the rich visitor to replace him – then justice can be done, and the bad guy punished. But will the rich guy have the balls to give up his easy life for the hard work of a frontier planet? Dickson is here straining to make a point, a point that frankly I don't believe for a second. The strains of the set-up show, and there is no examination of the ultimate stresses – and resulting loss of productivity – that such a system would cause.
I really liked Leigh Brackett's "The Queer Ones," but then I tend to really like Brackett. A newspaperman in a mountain town gets hints of a story – one of the mountain girls brought her boy into the doctor, and x-rays showed he was really strange. The girl swears she's going to marry the handsome man who knocked her up – but he seems to have run off. But then he's back, and so is his exotic sister, who makes a connection with the protagonist … It's clear enough what's going on, though Brackett runs a couple of nice variations on it, and it ends with classical Brackettian regret.
Charles Fontenay's "Blind Alley" is a nice little "biter bit" story, with a spy trying to steal the specs to a matter transmitter, and messing himself up in the process. A bit of fluff, but clever fluff.
And finally, Walter M. Miller, Jr.'s "Vengeance for Nikolai" might have been rather controversial in its time. The heroine is a Russian woman, and the villain is an American General. Some time in the future, the U. S. has invaded Russia, for no apparent good reason. Marya's son has been killed, and she volunteers to be captured, trusting that she will be able to get close to the general and kill him. The story is very straightforward – it sets up the situation, and moves quickly in a direct line to the expected conclusion. No twist, no subtlety. But quite well executed.
[See all of Rich Horton's Retro-Reviews here.]