Apex Magazine #42
Apex Magazine #42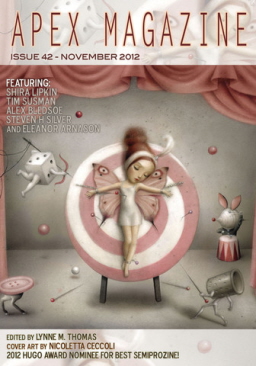 Issue 42 fiction include "Splinter" by Shira Lipkin, "Sprig" by Alex Bledsoe, "Erzulie Dantor" by Tim Susman, and "The Glutton: A Goxhat Accounting Chant" by Eleanor Arnason.
Non-fiction includes "The 21st Century SF/F Professional at Conventions" by editor Lynne M. Thomas, "Behind the Convention Curtain: Programming" by Steven H. Silver, and "An Interview with Alex Bledsoe" by Maggie Slater.
The cover art is by Nicoletta Ceccolli.
Visit the magazine at www.apex-magazine.com.