Marvel Feature: Red Sonja 1
Marvel Feature: Red Sonja 1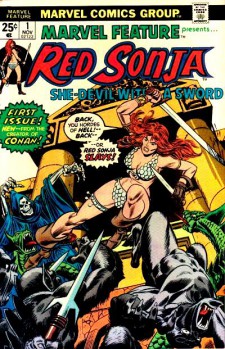 There were a few bumps in the road to Red Sonja's enduring success as a character/franchise. One of them is the rushed work on Marvel Feature 1, which was meant to be an audience test title. The rationale was that Sonja would appear in several issues of Marvel Feature and, if sales were good enough, would be awarded her own title.
But this really doesn't read like an audition. It reads more like a fill-in issue. First of all, the story is only eight pages long. Red Sonja finds an ancient temple, mercy-kills a priest who's been tortured, fights a pack of unarmed satyrs, and gets in one sword-fight. The artwork by Dick Giordano is good, but it's not Barry Windsor-Smith or John Buscema (the two artists most strongly associated with the She-Devil up to this point). There's none of the banter that she enjoyed with Conan and no hints of the character's tragedy. The rest of the issue is a one-page text by Roy Thomas explaining the character's background and a reprint of the story from Savage Sword of Conan 1 (now in color) where she killed a sultan after he forced her to take a bath.
Honestly, you don't even get any of the monsters you see on the cover. No demons. No snakes. No skeletons in robes. And it's a great cover, with Sonja in her trademark bikini, sword in one hand, dagger in the other. She's even kicking a snake while  slashing at the "hordes of Hell." It's only sleazed up a little with the cheesecake pose in the corner label (which gets changed on issue 2).
In short, it's a decent story, but nothing that would show readers unfamiliar with the character why Red Sonja is more than just a female Conan.
(originally published November 1975, Marvel Comics) (reprinted January 2007 in Adventures of Red Sonja Volume 1, Dynamite Entertainment)

Next Week: It Gets Better