ChiZine Publications Launches ChiTeen Young Adult Imprint
ChiZine Publications Launches ChiTeen Young Adult Imprint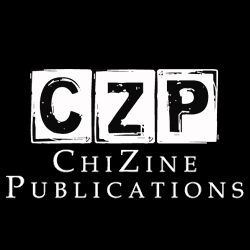 Our homies in Toronto, the almost-too-cool-for-planet-Earth ChiZine Publications, have announced a brand new imprint aimed at the YA market, ChiTeen.
"As a business, you can't ignore the young adult market," says co-publisher Brett Alexander Savory. "Over the last decade, writers like Rowling, Gaiman and Collins were consistently on bestseller lists. We've been wanting to get into the YA market for a couple of years, and now the timing is right."
"The timing is right" is sometimes code for "We just couldn't pass on this great book, so we launched a YA imprint to publish it." That's what it looks like to me anyway, as the new imprint already has its first title scheduled for release in spring 2014: The Unlikely But Totally True Adventures of Floating Boy and Anxiety Girl by Paul Tremblay (Swallowing a Donkey's Eye, The Little Sleep) and Stephen Graham Jones (Growing Up Dead in Texas, The Ones That Got Away).
If Savory is co-publisher, our tenuous grasp of the English language leads us to believe there must be at least one more publisher. Turns out there is: Sandra Kasturi, so we tracked her down for a quote too. Caught during delicate international rights negotiations, Kasturi nevertheless gave up the following: "Our editorial style lends itself to young adult fiction. CZP embraces the dark, the bizarre, the unusual. So many teens feel isolated or different and are looking for that outlet. ChiTeen will offer the same dark and weird stories with strong writing that CZP is known for, just with subject matter more suited for a younger audience."
When not issuing dueling quotes, Kasturi and Savory will serve as ChiTeen's co-publishers, along with most of the CZP team. They tell us they are currently approaching authors to fill out their 2014 roster. Before you get all excited and dust off that YA masterpiece in your trunk, they are not currently open to un-agented submissions for the new imprint.
We last looked at ChiZine in October (ChiZine Publications' eBooks Now Available on iTunes Store) and in December 2010 (A Salute to ChiZine Publications). Read more at the ChiZine website.