After 34 Years as Editor, Stanley Schmidt Retires from Analog
After 34 Years as Editor, Stanley Schmidt Retires from Analog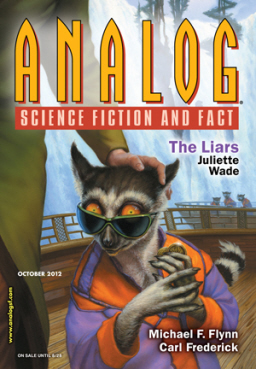 Much of the early buzz among short fiction fans at Worldcon last weekend centered around the announcement that Stanley Schmidt, longtime editor of Analog Science Fiction and Fact, had announced his retirement on August 29, the day before the con:
I have now been editor of Analog for 34 years, tying or (depending on how you count) slightly exceeding the previous longest-tenure record of John W. Campbell. I still enjoy it thoroughly, but am leaving to pursue a wide range of other interests. Two of the most important of these are doing more of my own writing, and reading Analog purely for the enjoyment of it, which I expect to remain at a high level under Trevor Quachri's direction.
Stanley Schmidt became editor of Analog in December 1978, succeeding Ben Bova. For most of the 34 years he edited it, Analog remained the top-selling magazine in the field, no small feat.
As momentous as the change is, it's not wholly unexpected. Declining circulation of the SF titles owned by Dell Magazines (Asimov's and Analog) over the last two decades have led to successive budget cuts, and there's some conjecture that those cuts led to the retirement of Gardner Dozois as editor of Asimov's, after winning a record 15 Hugo Awards for Best Professional Editor during his 16 years as editor (1988 — 2004).
I have mixed emotions at the end of the Schmidt era. I found Analog, the favorite SF magazine of my youth, largely unreadable under Schmidt. However, Schmidt did discover and promote exciting new talent during his 3+ decades as editor, including Timothy Zahn, Harry Turtledove, Michael F. Flynn, Jerry Oltion, Linda Nagata, Maya Kaathryn Bohnhoff, Geoffrey A. Landis, Rajnar Vajra, and many others.
Schmidt made his name in Analog first as a writer. His first publication was the short story "A Flash of Darkness" (Analog, September 1968); his novel The Sins of the Fathers was serialized from November 1973 to January 1974. Ten stories in his "Lifeboat Earth" series appeared between 1976 and 1978. As editor, he was nominated for the Hugo Award for Best Editor every year from 1980 through 2006 through 2011. He has never won.
Analog's new editor is Trevor Quachri, who has served as Managing Editor at Analog (and editorial assistant of both Asimov's and Analog) for many years. Analog's website, which I created over 15 years ago when I ran the SF Site, is here.