Vintage Treasures: A Box of 1950s SF and Fantasy Magazines, and the End of the First Era of Space Exploration
Vintage Treasures: A Box of 1950s SF and Fantasy Magazines, and the End of the First Era of Space Exploration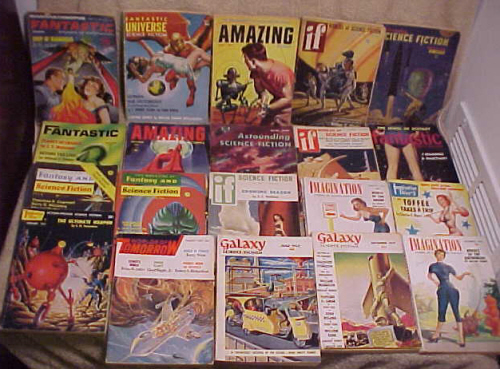 I bought a box of 1950s SF and fantasy digests in an online auction at the end of July, an assortment of chiefly lesser-known magazines such as Imagination, Worlds of Tomorrow, Fantastic Universe, and Imaginative Tales. The box has been sitting in my library for three weeks while I puttered around it, like an unopened Christmas present. I finally unpacked it this morning. Just as I'd hoped, it was filled with wonders.
Holding these the day after the death of Neil Armstrong gives me the powerful sense of the passage of history. Every one of these magazines was published before Armstrong walked on the moon — in most cases at least a decade before. The era of space exploration, with all its incredible promise and danger, was firmly in mankind's future. Looking at them now, as the first era of space exploration draws to a close with the death of its most famous hero at age 82, I feel like I'm looking back through not one but two eras, to a time when landing on the moon was something that many still scoffed at. When the future was a place where robots carried guns, aliens were green-skinned and wore khakis, and housewives walked alien dogs who didn't know what to do with a fire hydrant.
Even setting aside all the musings on history, there's still a lot of wonder packed into these yellowing pages. Marvelous artwork, and even more marvelous stories, from some of the brightest lights in the genre. This box of 20 magazines, which I purchased for 48 bucks, is a splendid sampling of some of the best work of the decade.
(Click on any of the images in this article for larger versions.)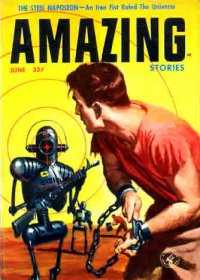 The 1950s was an incredible time to be a science fiction fan. The pulp era was drawing to a close, and those SF and fantasy pulps that had managed to survive World War II paper shortages were changing format quickly, shrinking to digest size. The leaner economics of the more modest format were attractive to a host of publishing houses, and the incredible advances of WW II — including the atomic bombs dropped on Hiroshima and Nagasaki in 1945 — caused a surge of interest in the field, especially among young new fans.
At the end of the 40s, perhaps ten true SF magazines still limped along; during the decade that followed no less than two dozen more joined their ranks. To fill their pages, editors opened their doors to a new generation of writers, launching the careers of some of the most accomplished writers the genre has ever seen.
The June 1957 issue of Amazing Stories, pictured at right, leads off with Harlan Ellison's short novel "The Steel Napoleon" ("An Iron Fist Ruled the Universe"). The captivating cover is by Edward Valigursky, and the issue also contains work by Rog Philips and Henry Slesar.
Cartoons are scattered throughout the issue, including one on pg 36 that shows two aliens on Earth holding a box of sugary breakfast cereal in obvious wonder, captioned with the first alien's exclamation: "Wow! These Earth people are way ahead of us."
The Managing Editor of this issue is the wondrous Cele Goldsmith, who brought a whole new sensibility to Amazing when she took the reins as Editor-in-Chief in 1959, discovering Roger Zelazny, Thomas M. Disch, Ursula K. Le Guin, and Keith Laumer.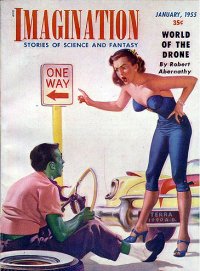 A very different magazine is Imagination: Stories of Science and Fantasy, whose covers and content tend towards the whimsical. No conquering robots or invading aliens here; the cover of the January 1955 issue shows an irate young woman who's run into an alien in khakis going the wrong way on a one-way street. Given his lack of a vehicle, we're left to assume he's simply been levitating his way down the street, clutching a steering wheel in imitation of earthlings.
The cover is titled "Traffic Mishap: 1990," and is the work of artist Harold McCauley.
The issue itself is packed with promising fiction, including "Comfort Me, My Robot," by Robot Bloch, the complete novel "World of the Drone" by Robert Abernathy, "The Dictator," by Milton Lesser, and "The Hand" by future Star Trek writer Jerry Sohl.
Even better is the December 1954 issue, which includes Philip Dick's short story "Strange Eden," the tale of a space explorer who finds much more than he bargained for. ("Brent only wanted to look around the planet; the trouble was, he looked too far!")
The issue also contains a complete short novel by Milton Lesser, and short stories by Evan Hunter, Winston Marks, and others. Plenty of cartoons are scattered about this issue as well.
The cover, "21st Century Girl Walking Pet," shows a woman of the future putting up with an irate pet, who seems to object to the fire hydrant he's being offered.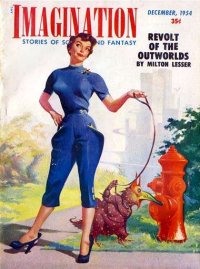 Both issues were edited by William L. Hamling.
Imagination's sister magazine was Imaginative Tales, whose covers were frequently less whimsical. I found two issues in the box: November 1954 and January 1957, both also edited by Hamling.
The November 1954 issue, which features a nearly nude woman in high heels riding the nosecone of a rocket (I don't have room for a scan, but if that description captures your attention — and why wouldn't it? — you can see the cover here), contains only two short novels, both by Charles F. Myers: "Toffee Takes a Trip" and "Toffee Haunts a Ghost."
Clearly inspired by Thorne Smith's popular Topper novels, the Toffee tales follow the adventures of Marc Pillsworth and his dream girl — quite literally — Toffee, a woman who exists only in his mind. Until she escapes into the real world, where she causes Pillsworth no end of trouble in a series of spicy adventures. Spicy by the standards of the 1950s, anyway.
Myers is perhaps better known as the screenwriter for Hush … Hush, Sweet Charlotte and many other novels and screenplays. He wrote a total of 10 tales featuring Toffee, which have been collected in The Complete Adventues of Toffee from Pulpville Press.
The January 1957 issue is a little more typical, containing seven stories — including Randall Garrett's "The Star Slayers," "The Last Ship Out" by Robert Moore Williams, and Robert Silverberg's "The Nudes of Quendar III."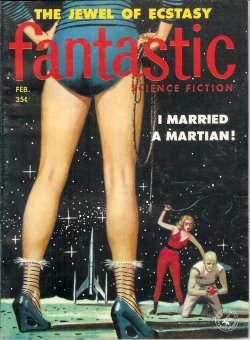 There were three issues of Fantastic Stories of Imagination in the box. Fantastic has long been one of my favorite digest magazines, and not just for its consistently marvelous covers. It has a well-deserved reputation as one of the finest sword & sorcery magazines ever published, and it filled its pages with a wide assortment of weird fantasy throughout most of its existence.
The oldest, from February 1958, features what looks like a pair of whip-wielding dominatrixes (what's the correct plural of dominatrix? Dominatri?) on a weird alien landscape, giving the business to some poor schmuck clutching a red orb.
Illustrating Henry Slesar's "Jewel of Ecstasy" (with the lurid blurb "I Married a Martian!"), Edward Valigursky's cover is a timely warning of the dangers of inter-species dating in the coming era of space exploration. Pay attention, kids.
The Virgil Finlay interior art is worth a look, too.
The September 1961 issue contains A.E. van Vogt's "Ship of Darkness," and short stories by A. Bertram Chandler, Daniel F. Galouye, and part one of a two-part serial by Manly Banister, MAGNANTHROPUS.
The September 1974 issue contains the conclusion of John Jakes' When the Idols Walked, and stories by J.T. McIntosh, William F. Temple, Jack Sharkey, and Lawrence M. Janifer.
I found a nice surprise in the single copy of Worlds of Tomorrow (March 1965) in the box — the complete novel World of Ptavvs, by Larry Niven. The issue also managed to cram in "Scarfe's World" by Brian Aldiss, "Pariah Planet" by Lloyd Biggle Jr, "By Way of Mars," by Ron Goulart, and many more.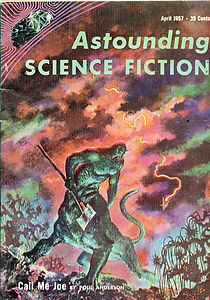 I didn't expect to find many surprises in the two copies of Astounding Science Fiction in the box. I'm pretty familiar with Astounding at this point, having read and collected it for over 30 years. But the issues at hand, March 1951 and April 1957, include some terrific stuff, such as James H. Schmitz's "Space Fear" and Poul Anderson's landmark novella "Call Me Joe."
They also include Kate Wilhelm's "The Mile-Long Spaceship," "Torch" by Christoper Anvil, and Jack Williamson's "The Man From Outside." Astounding's long-time editor was John W. Campbell.
There are three copies of Worlds of IF: May 1953, December 1956, and July 1959. The first includes "Jupiter Five," a novelette from relative newcomer Arthur C. Clarke, as well as short stories by Alan E. Nourse, Kris Neville, and Mark Clifton. The cover, by Ken Fagg, shows a group of nervous-looking astronauts looting a weird alien relic; on the inside the artwork is titled "Exploring Mars and Jupiter."
The line-up for the December 1956 issue is mostly forgettable, but the issue is noteworthy for the cover article by Dr. Walther Riedel, the "World's Foremost Aerophysicist," blurbed on the cover with: "Will We Find Intelligent Life in Space? Read THIS LONELY EARTH."
The July 1959 issue is much more promising, with a table of contents that includes "Recall Mechanism" by Philip K. Dick, "The Ogre" by Avram Davidson, "Sitting Duck" by Daniel F. Galouye, and others.
While the previous two issues were edited by James L. Quinn, this last issue was edited by none other than Galaxy's famed editor H.L. Gold, which may explain the apparent uptick in quality names. The Feature Editor this issue is Frederik Pohl.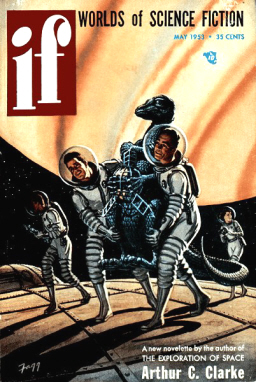 There are only two issues of Galaxy in the box, but even a quick glance explains why Galaxy is still widely sought by most collectors while these magazines are mostly forgotten. In those two issues alone are brand new stories from Theodore Sturgeon, Clifford D. Simak. William Tenn, Frederik Pohl and C.M. Kornbluth, Richard Wilson, and many, many more.
If you're serious about collecting vintage SF digests, you should probably start with Galaxy, The Magazine of Fantasy & Science Fiction, and Astounding. At least, that's the conventional wisdom, and it's hard to argue with. (You can read Matthew Wuertz's recent experiences getting started collecting Galaxy here.)
The final item in the box (other than two stray issues of F&SF from the 1970s) is a lone issue of Fantastic Universe from September 1957. Virgil Finlay's typically dynamic cover, illustrating L. Sprague de Camp and Bjorn Nyberg's "Conan the Victorious," shows a triumphant flying beast man making off with a screaming woman, his wings beating through the space ether as the Earth recedes in the distant background.
The sky around them is blue and conveniently breathable, which helps explain why she's still screaming — not to mention safely wrapped in a diaphanous gown, rather than a bulky spacesuit.
The cover is the best thing about this issue — although there are a few surprises in the Table of Contents, including Isaac Asimov's science article, "The Unrare Earths," and "Second Sight," a short story by Basil Wells.
There's also a UFO article, "Shapes in the Sky," written by the Civilian Saucer Intelligence. Public obsession with UFOs was something that helped sales for most SF magazines in the 50s, and articles like this weren't uncommon.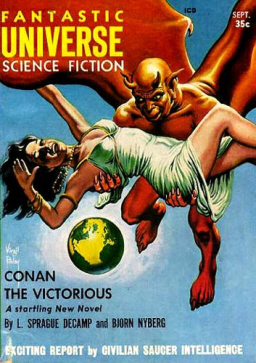 That wraps up the latest addition to the Cave of Wonders, the vast and poorly-organized paperback and magazine archives in my basement. I have thousands of pulps and vintage SF magazines in the Cave of Wonders, but for a long time I concentrated exclusively on the leading magazines — including Astounding Stories, Amazing Stories, Weird Tales, The Magazine of Fantasy and Science Fiction, Galaxy, and Asimov's.
Take it from me — you can collect thousands of SF magazines and still have a very narrow sample of the genre unless you collect very broadly. For example, a complete collection of Astounding and F&SF — neither of which I have — would require well over 1,500 individual issues.
I gave up being a completist years ago. I found I didn't really care about having a complete collection of most magazines, as much as I wanted to have a broad collection of many different ones.
I've gotten just as much enjoyment out of this box of random titles as I have out of many more expensive purchases over the years.
There are plenty of collections of this sort that pop up on eBay and other auction sites from time to time, most of them overlooked by collectors looking to complete collections.
If you're interested in vintage SF and fantasy magazines, this is one way you might get started. For roughly two bucks a book, you can sample some of the best the field has to offer.
Try it out, and let me know what you think.