Josepha Sherman, December 12, 1946 – August 23, 2012
Josepha Sherman, December 12, 1946 – August 23, 2012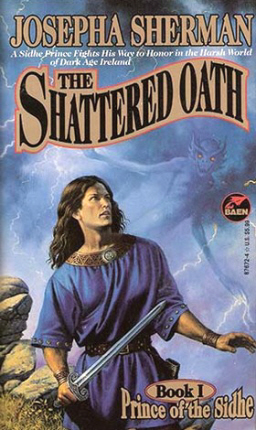 Reports are pouring in that prolific fantasy writer Josepha Sherman, author of The Prince of the Sidhe novels and numerous licensed tie-in books, died on Thursday. She had been in poor health and struggled with dementia in the final years of her life.
Sherman began her career writing for The Adventures of the Galaxy Rangers, the animated Space Western TV series that ran between 1986 and 1989. Her first standalone fantasy novel was Golden Girl and the Crystal of Doom (1986). It was followed by more than a dozen others, including the Compton Crook Award winner The Shining Falcon (1990).
She began a lengthy and productive career writing tie-in novels for popular television and computer gaming properties in 1986 with The Invisibility Factor (Find Your Fate Junior Transformers, No 9). She produced licensed novels for Buffy the Vampire Slayer, Star Trek, Bard's Tale, Highlander, Mage Knight, and Gene Roddenberry's Andromeda. She also published All I Need To Know I Learned From Xena: Warrior Princess (1998), Greasy Grimy Gopher Guts: The Subversive Folklore of Childhood (with T. K. F. Weisskopf, 1995), Mythology for Storytellers (2002), and more than 30 other non-fiction titles.
Sherman was also a prolific editor with eleven anthologies under her belt, beginning with A Sampler of Jewish-American Folklore (1992) and including Trickster Tales: Forty Folk Stories from Around the World (1996), Urban Nightmares (with Keith R.A. DeCandido, 1997), Merlin's Kin: World Tales of the Heroic Magician (1998), and Young Warriors: Stories Of Strength (with Tamora Pierce, 2005).
Sherman frequently wrote in collaboration, producing more than a dozen books with a variety of talented partners including Susan M Shwartz (5 Star Trek novels), Laura Anne Gilman (2 Buffy novels), Mercedes Lackey (Bard's Tale and Bardic Choices), Keith R.A. DeCandido (one anthology), Tamora Pierce (one anthology), T K F Weisskopf (one non-fiction book), and many others.
Writers including Pat Cadigan, Keith DeCandido, Theodora Goss, Nick Pollotta, Vera Nazarian, Ellen Kushner, and David B. Coe have been leaving testimonials on her Facebook page.