50 Shades of Paedo?
50 Shades of Paedo?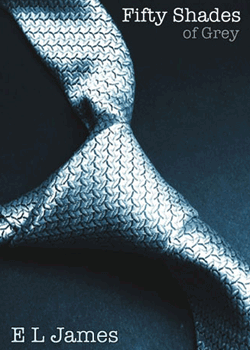 There is fantasy and then there is fantasy that goes too far. While all of us would draw the line of what is acceptable fantasy and what is not in distinctly different places, I think most fans of the SF/F genre would agree that pedophile fantasies definitely cross that line. I'd also throw in elderly vampires that spend their days in high school and sparkle in the sun myself, but clearly millions of readers disagree.
So does 50 Shades of Grey go too far? Not on the surface, as according to its description it is little more than John Norman's Gor brought back to Earth, minus the sword battles and the awesome tarn birds. And it's not a question I can legitimately even try to answer, since I haven't read 50 Shades of Grey, nor do I have any intention of doing so.
And while I am vaguely reminded of both the absurd Dungeons & Dragons and Harry Potter scares of the past, neither of which resulted in the impressionable youth of America disappearing in sewers or devoting their lives to the practice of black magick, this particular charge strikes me as rather more plausible because it relies upon such a very simple writer's trick. To summarize, the idea is that while the protagonist of the 50 Shades books is nominally 21, the stated age is a deception because the character is actually much younger based upon how she is written throughout the books. In other words, the books don't tell the story of an erotic seduction of an adult woman, to which few could reasonably object, but rather a child molester grooming a young victim. This is a little troubling, when one considers that the titles in the 50 Shades trilogy are presently the best-selling books in America.
I didn't seek out 50 Shades of Grey. It was brought to my attention by a longtime friend who is also a clinical psychologist at a university. She's a bit older than me. She grew up in the counter culture era and did her fair share of experimentation of all kinds. So she's hardly a prude. What she today though is a mother and grandmother. And she's smart. One of the things that fascinates her is this age of cultural phenomena. How due to technology things now spread so quickly throughout society and become the next big thing at an increasingly rapid pace. She says sometimes this phenomena is pretty much harmless, and other times it can be very damaging to kids and or adults who begin to emulate something out of a need to belong to the "next big thing".

Her reaction to 50 Shades of Grey though was much more aggressively negative than anything I could recall her talking about before. It came up because I mentioned it to her offhand. I had seen a couple mentions of it on the news and knowing her interest in cultural trends, asked her about it. She stopped talking, looked right at me, and said the book was about pedophilia…. Its cover was a story of a young woman engaging is a very graphic sexual relationship with a somewhat older man. The problem for her, and it was a BIG PROBLEM, was that the narrator in the story, was in fact, an underage girl. My friend indicated, based on the use of language in the narration, that this girl was likely no more than 12 or 13 years of age.
Convincing? I leave it to those who have actually read the books to decide. But one thing does strike me as a little strange regardless of the truth of the matter. If 50 Shades of Grey is not about an underage girl, but a somewhat retarded and immature woman, isn't making her the poster girl for female fantasy disturbingly similar to turning Raymond Babbitt of Rain Man into the star of an adult film?