New Treasures: The Book of Cthulhu, edited by Ross E. Lockhart
New Treasures: The Book of Cthulhu, edited by Ross E. Lockhart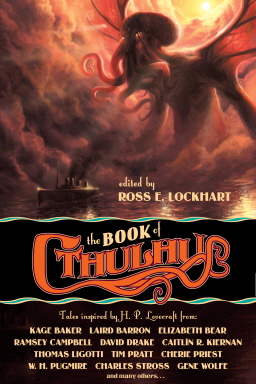 It's been a few good years for Cthulhu fans, with a number of high-profile, acclaimed anthologies offering brand new tales of everyone's favorite genocidal cosmic entity, including Ellen Datlow's Lovecraft Unbound (2009), Darrell Schweitzer's Cthulhu's Reign (2010), S. T. Joshi's Black Wings of Cthulhu (2010), and Future Lovecraft (2011) edited by Paula R. Stiles and Silvia Moreno-Garcia, among others.
However, if you're new to the Cthulhu mythos, or just want to sample the best Lovecraftian horror of the last eight decades, your options are a little more limited. Paula Guran's New Cthulhu: The Recent Weird (2011) offers an excellent cross-section of fiction from the last decade, with short stories by Neil Gaiman, John Langan, China Miéville, Michael Shea, Charles Stross, and many others. At 528 pages, it's a veritable feast of modern cosmic horror, but since the oldest story dates from the year 2000, it doesn't really count as a true survey of the very finest Cthulhu fiction.
That title, I think, goes to Ross E. Lockhart's The Book of Cthulhu. It includes some of the most famous Cthulhu stories of all time, including T.E.D. Klein's "Black Man With a Horn" (1980), Brian McNaughton's "The Doom That Came to Innsmouth" (1999), and fiction by Charles R. Saunders, Ramsey Campbell, Bruce Sterling, Laird Barron, Kage Baker, Thomas Ligotti, Gene Wolfe, and many others.
Although Lockhart draws heavily from modern writers, there's surprisingly little overlap with Guran's volume — a scant four stories. You could probably get away with getting both, in fact. I'm glad I did.
Ross E. Lockhart is the managing editor of Night Shade Books. A second volume, The Book of Cthulhu 2 — reprinting stories by Fritz Leiber, Neil Gaiman, Laird Barron, Michael Chabon, and many others — is scheduled for release in October.
The Book of Cthulhu is 530 pages in a handsome trade paperback, with cover art by Obrotowy. It was released in August, 2011 by Night Shade Books, with a cover price of $15.99.