New Treasures: Jason E. Thummel's In Savage Lands
New Treasures: Jason E. Thummel's In Savage Lands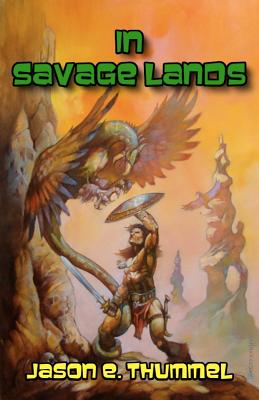 One of the many great things about being involved with Black Gate is being exposed to so many terrific new writers. One of the best of the recent lot is Jason E. Thummel, whose short fiction is fast paced, consistently exciting, and packed with invention.
I've purchased three short stories from Jason for Black Gate magazine, but we by no means have a monopoly on his work. His story "Runner of the Hidden Ways" was one of the finest stories in the excellent anthology, Rage of the Behemoth (2009), and his fiction has also appeared in the acclaimed (and much-missed) Flashing Swords magazine and the anthology Magic and Mechanica (2009). His first novel, The Spear of Destiny, was published in 2011.
Now comes word that his first collection, In Savage Lands, is available. Here's the official description:
A small band of rebellious slaves, fleeing an undead terror; an untested leader, willing to sacrifice everything to save his people; a man driven to become the thing he hates most in order to exact a terrible vengeance…

These are just a few of those you will meet within.

Against unfathomable odds, the might of monsters, the cunning of men, and the raw, overwhelming power of the elements themselves, each struggles to survive…

In Savage Lands is a collection of 13 short stories for lovers of Heroic Fiction, Sword and Sorcery, and action-driven Fantasy.
In Savage Lands is 160 pages (approximately 44,000 words). It is available for $8.95 in paperback, and in digital format for $2.99 from Amazon.com, Barnes & Noble, and iTunes.
Thanks to the ever-vigilant Jason Waltz for the head's up on this one!