Apex Magazine #38
Apex Magazine #38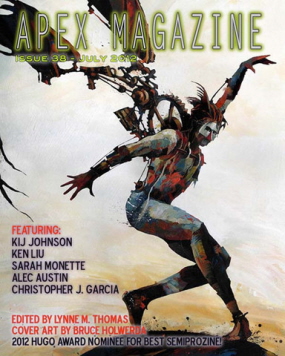 July's Apex Magazine features  "Coyote Gets His Own Back" by Sarah Monette, "The Silk Merchant" by Ken Liu, "Ironheart" by Alec Austin and "Wolf Trapping" by Kij Johnson  (who is interviewed by Maggie Slater). Bruce Holwerda provides the cover art. Nonfiction by Christopher J. Garcia and editor Lynne M. Thomas round out the issue.
Apex is published on the first Tuesday of every month.  While each issue is available free on-line from the magazine's website, it can also be downloaded to your e-reader from there for $2.99.  Individual issues are also available at  Amazon, Nook and Weightless.
Twelve issue (one year) subscriptions can be ordered at Apex and Weightless for $19.95; Kindle subscriptions are available for $1.99 a month.