The Retro Pulp Art of Tim Anderson
The Retro Pulp Art of Tim Anderson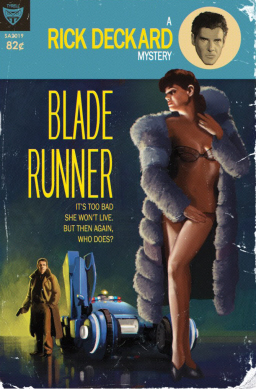 We love pulp fiction. And we love classic SF & fantasy movies.
So what's not to love about Tim Anderson's re-imaginings of classic SF films as pulp paperbacks?
Anderson is a concept designer for Electronic Arts in Salt Lake City. He's also worked as a concept designer for Paramount Licensing, Inc., Radical Comics, and various independent filmmakers.
He's started working on a personal side project that he hoped would motivate him "into thinking more graphically," a series of highly detailed period paperback covers for some of the most famous SF films of the 20th Century.
Here's what he says about his Blade Runner piece at right (click for a bigger version):
If you haven't guessed by now, I'm a huge sci-fi fan, and a huge fan of Ridley Scott. Here's a pulp cover I have had in the works off and on for a while now. I was inspired by the detective pulp covers of Robert McGinnis. If ever there was a sci-fi movie that lent itself well to a detective pulp cover, it's Blade Runner.
Anyone who's a fan of the great Robert McGinnis is okay by us.
Check out Tim Anderson's versions of Alien, The Matrix and others here.