Catherynne M. Valente parts ways with Night Shade Books
Catherynne M. Valente parts ways with Night Shade Books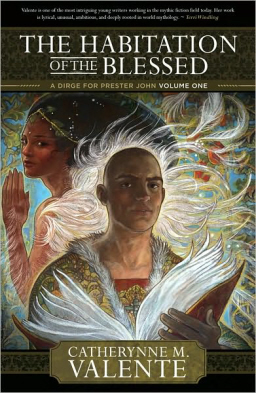 Catherynne M. Valente has announced her third Prester John novel, following The Habitation of the Blessed and The Folded World, will not be published by Night Shade Books. In a statement on her blog last week she said:
I continue to think that Night Shade puts out wonderful books and I hope for their success. I did not take this step lightly. But their recent troubles have made our business relationship difficult, and I could not in good conscience proceed with a third book given the circumstances. Obviously I'm being a bit vague – there's no point in airing laundry in public… What this means is that at the moment, The Habitation of the Blessed and The Folded World are for the most part unavailable. Some copies will float around for awhile yet, but most of the e-versions are gone. I hope to fix this in the next week – I have relicensed the covers from the excellent Rebecca Guay and Night Shade has been very kind and accommodating with regards to physical copies and digital files…

As for the third and final book in the series, The Spindle of Necessity, I am committed to finding a way to make sure you get to see it. I owe you a finish. Oddly enough, Prester John is my longest series to date, and I want to bring it all to a close the way I planned to from the beginning… Given the market realities, the most likely avenue for this is a Kickstarter campaign to fund a self-published version.
At press time, both The Habitation of the Blessed and The Folded World are available at Barnes & Noble and Amazon.com, in both print and Kindle versions. But if you're interested in getting copies, you want want to move quickly.