Weird Tales 359 Arrives
Weird Tales 359 Arrives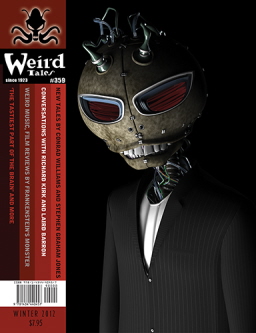 Well, sort of.
I've been waiting expectantly for this one. It's something of a watershed issue — Ann VanderMeer's final issue as editor, and the first from the new publishers, Nth Dimension media (as we reported back in August). It has fiction from Stephen Graham Jones, Tamsyn Muir, Evan J. Peterson, and many others, and articles from Paula Guran, Michael Skeet and Kenneth Hite.
At least, so they tell me. I haven't been able to find a copy. I blame the death of Borders, where I used to be able to buy it. I've been checking the magazine section of my local Barnes & Noble (where I get F&SF, Asimov's, Analog and Interzone), but no luck.
But Ann VanderMeer tells me it's out. New publisher John Harlacher tells me it's out. So it probably is. If you see a copy in the wild, let me know will you? Speaking of Harlacher, here's what he says about this issue, and the spectacular cover:
The first Weird Tales issue by our company, Nth Dimension media, has gone to press, and will be in your mailboxes by the end of February. It's edited by Ann VanderMeer, has art direction by Stephen H. Segal, and is quite beautiful… Stephen worked with our artist, Dave Buchwald (known in the graphic design world for creating the covers of 2600 magazine), to create this cover, and we think it represents a style we will use for the near future. It features the new/old logo, an intriguing symbol by Jeff Wong (www.JeffWong.com), and a stunning piece of art by Aurielien Police. The layout achieved what was most important to me – an emphasis on art, while keeping the writer in the forefront.
It really is a great cover. Click on the image at right for a bigger version. Love the dapper robot dude.
Cover price for the issue is $6.99 (I guess). It is probably 80 pages. The complete table of contents is here. We last covered Weird Tales with issue 358.