May/June Fantasy & Science Fiction Magazine now on Sale
May/June Fantasy & Science Fiction Magazine now on Sale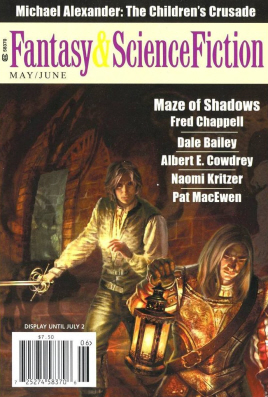 Great cover on the latest issue of F&SF courtesy of Max Bertolini, illustrating "Maze of Shadows" by Fred Chappell, another tale of Falco the shadow thief. Has there ever been a good dungeon-delving cover on F&SF? No idea, but this one makes up for it. Click on the cover for a humongous version, and check out the creepy dude in the shadows. Here's the complete table of contents:
NOVELLA
"Maze of Shadows"  – Fred Chappell
NOVELETS
"Liberty's Daughter"  – Naomi Kritzer
"Asylum"  – Albert E. Cowdrey
"Taking the Low Road"  – Pat MacEwen
"The Children's Crusade"  – Michael Alexander
SHORT STORIES
"Necrosis"  – Dale Bailey
"Typhoid Jack"  – Andy Stewart
"City League"  – Matthew Corradi
"Grand Tour"  – Chris Willrich
As usual, Lois Tilton has already reviewed the issue in detail at Locus Online. Here's what she says about "Maze of Shadows":
Master Astolfo has accepted the commission of a nobleman to guard his house with shadows in order to protect a mysterious treasure within. Falco and his fellow-apprentice Mutano have duly constructed a shadow maze, but a blind man sent to test it easily finds his way through. The chateau [pun, there?] also houses the cat that has Mutano's voice, while he can only converse in cat – a situation that Mutano wants to remedy…

There's a thing about series: if built around an ingenious and fascinating notion, such a premise can carry the first story a long way. But in the subsequent installments, we expect and require rather more. There is plenty of more in this one. The shadow trade figures prominently, the details sufficient and comprehensible for the purpose of the story without a lot of unnecessary backgrounding. The mannered narrative voice of Falco is engaging. There is also a neatly complex plot full of interwoven mysteries to keep readers involved. And some extraordinary cats.
The cover price is $7.50, for a thick 258 pages. Additional free content at the F&SF website includes book and film reviews by Charles de Lint, James Sallis,Paul Di Filippo, and Kathi Maio, and the "Curiosities" column by Jack Womack. We last covered F&SF here with the March/April issue.