John R. Fultz's Seven Kings due in January
John R. Fultz's Seven Kings due in January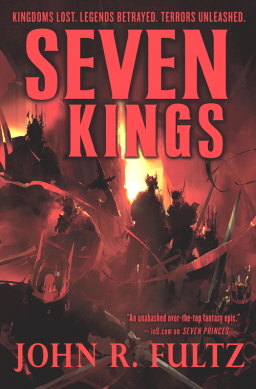 John R. Fultz's second novel Seven Kings, the sequel to his breakout fantasy epic Seven Princes, will be available January, 2013.
Seven Kings, the second volume in The Books of the Shaper, will be published by Orbit in trade paperback. The cover is by Richard Anderson.
On his blog Fultz spills some additional details on the new installment:
I finished the final revisions about a month ago. I don't want to say too much about the plot, but you will see much more of Khyrei and its poisonous crimson jungles than in the first book.

Plus: More Giants…
Barnes & Noble's inhouse magazine Explorations called Seven Princes "flawless – and timeless – epic fantasy… Seven Princes is as good as it gets." Here on the blog Brian Murphy said:
Seven Princes is bold, brash, and big. This is a novel written with bright strokes of character and setting, bursting with world-shaking adventure, intrigue, and conflict. It reads big, and feels big, and it's unrepentantly so.
Stay tuned — we'll keep you posted on the latest Books of the Shaper news as word escapes from the haunted towers of Castle Fultz.