This Week's Bargain SF & Fantasy Books at Amazon.com
This Week's Bargain SF & Fantasy Books at Amazon.com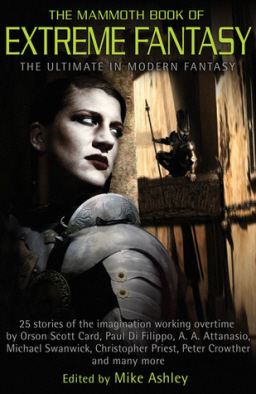 This week sees some great bargains on fantasy, dark fantasy and horror from Carroll & Graf, including several of their splendid Mammoth Book Of... anthologies such as Mike Ashley's The Mammoth Book of Extreme Fantasy, and a fine collection from Stephen Jones covering Dracula, Wolf Men, Monsters, and more. These are sizable trade paperbacks, 500 pages or more, and they assemble a wide assortment of excellent short fantasy.
For those looking for something a little edgier, or at least more in tune with modern publishing, I've also included The Mammoth Book of Vampire Romance, volumes 1 and 2, and The Mammoth Book of Paranormal Romance 2, all edited by Trisha Telep. You're welcome.
Lou Anders' terrific superhero anthology Masked is now available for just six measly bucks. Two installments of Barb Hendee's urban Vampire Memories series are also on the list, as is the first novel by Bram Stoker's great-grandnephew Dacre Stoker, Dracula The Un-Dead, the direct sequel to Dracula (read William Patrick Maynard's review here).
Jeffrey Ford, author of the weird and wild story "Exo-Skeleton Town" in Black Gate 1 (read the complete text here), has a great selection of novels available available at steep discounts this week, including The Drowned Life, The Girl in the Glass, The Portrait of Mrs. Charbuque, and The Shadow Year.
Finally, don't overlook two of the finest titles on this week's list: Margo Lanagan's World Fantasy Award-winning novel Tender Morsels, and the latest collection by the marvelous Kelly Link, Pretty Monsters.
As always, quantities on these bargain books are very limited. All these titles are eligible for free shipping on orders over $25.
Many of last week's discounts are still available; you can see them here.