Cinderella Jump Rope Rhymes
Cinderella Jump Rope Rhymes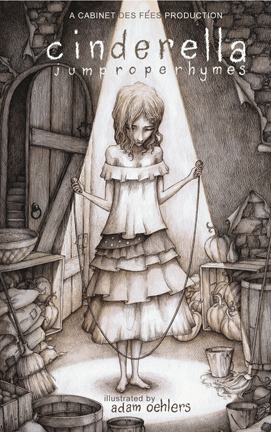 Cabinet des Fées presents Cinderella Jump Rope Rhymes!
These are not the rhymes you jumped rope to as a child.
Erzebet YellowBoy announced on March 12th:
"Cinderella Jump Rope Rhymes shows you what a childhood pastime looks like when you dial macabre up to eleven. If playground fun got married to the genetically engineered child of Joss Whedon and Neil Gaiman, their offspring would be Cinderella Jump Rope Rhymes.

…In tribute to all of the animal friends and helpers without whom our fairy tale heroines and heros would themselves be lost, CdF has decided to fund animal charities with this publication. Fifty percent of all profits will be donated each quarter, beginning with the quarter starting April 1, 2012.

Our first batch of proceeds will be donated to HULA Animal Rescue: Home for Unwanted and Lost Animals. HULA is an independent UK charity with a non-​​destruction policy for every healthy animal, in service since 1972.

Our second batch of proceeds will be donated to the Oldies Club, and our third to Dolly's Foundation. We'll post more information about those two charities when their times comes. If you have any suggestions for the fourth quarter donations, please send them along!"
Edited by Francesca Forrest, illustrated by Adam Oehlers (for an interview with the illustrator, click here), this chapbook contains contributions from Francesca Forrest, Sonya Taaffe, Samantha Henderson, Erik Amundsen, Rose Lemberg, Nadia Bulkin, Julia Rios, and Kyle Davis.
Cinderella Jump Rope Rhymes can be purchased at Amazon​.com, Amazon​.co​.uk and  The Book Depository as well as at other online sellers. Please support independent sellers if you can!