Goth Chick News: 17th Annual Halloween and Attractions Show
Goth Chick News: 17th Annual Halloween and Attractions Show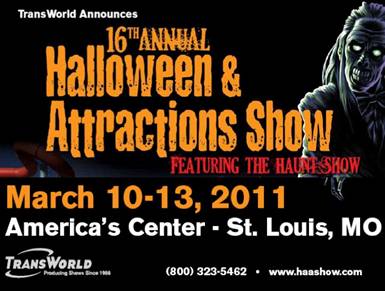 It's that time of year again.
You can tell because the blender in the underground offices of Goth Chick News is cranking out frozen adult beverages at a terrific clip, fueling the preparations for TransWorld Exhibits' annual bacchanalia of special effect grossness.
This weekend one lucky Black Gate photographer and I will sign out one of the company vehicles (which I assure you with not be that oft-mentioned zeppelin) and head south toward St. Louis, MO in search of the latest trends in all things Halloween and horror.
Though I have been known to lose members of my team in the Leg Avenue adult costume section, and I myself have been known to become woozy when hob-knobbing with some of Hollywood's lords of gore, the HAA never fails to yield amazing content and must-have products.  This year my personal holy grail consists of an autograph and interview with Tony Moran, who played the original Michael Myers.  And then there's all the swag we collect from vendors in pursuit of a coveted "5 Bat Award" for best in show products (for instance, who can forget the Blood Energy Drink dispensed in blood donation hang bags?).
Attending the HAA is a job perk of working at Black Gate as it's an "industry only" event not open to the public.
But fear not!
We'll make sure you don't miss a thing and to hold you over, here's a little video clip from the 2011 show.
Is there something in particular you're looking for to add to your own Halloween decorations?  Ever wonder how a particular movie horror effect is done? What to know if Michael Myers is boxers or briefs? Post your question here and I'll ask the experts at the HAA.