Maid(en) For Me: Gods Of Metal Back On Tour With Maiden England
Maid(en) For Me: Gods Of Metal Back On Tour With Maiden England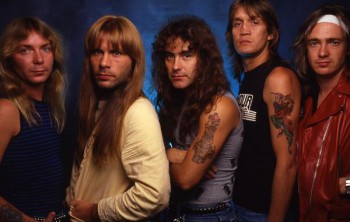 What does a mid to late 30-something (closing in on 40, if I'm being honest) consumer of books like Styrbiorn the Strong,  Dune, and World War 2 military history do in between bouts of reading and writing posts for Black Gate? Why, listen to Iron Maiden, of course! I can blast "Invaders" and vicariously experience a Viking raid, play "To Tame a Land" and hear bassist Steve Harris' take on Frank Herbert's classic SF novel, and fire up "The Longest Day" for a stirring rendition of the events of D-Day and Omaha Beach.
Iron Maiden has always been a favorite of mine. I personally consider them the best heavy metal band of all time, edging out the likes of Judas Priest (on whom Maiden holds an edge by virtue of a more consistent catalog—Priest has more dud albums) and even heavy metal originators Black Sabbath (whom they beat due to longevity—Black Sabbath spent decades residing in the "where are they now" file, living off past glories). Maiden is to heavy metal what The Lord of the Rings is to fantasy—not the first on the scene, but the best. In my opinion of course, and your mileage may vary.
I've always thought of Iron Maiden as the heavy metal band that catered to the nerdy crowd. If you were smart, you liked history and science fiction/fantasy, and of course you liked Iron Maiden. They were and are the antidote for those critics who sneered at metal, labeling it as mindless noise, the stuff of "sex, drugs, and rock-and-roll." Faux-metal hair bands like Poison and Warrant gave metal a bad reputation, but Iron Maiden elevated this much-maligned genre of music into an art form.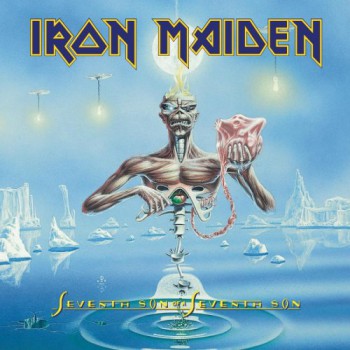 Though they are getting a bit long in the tooth Iron Maiden is back touring this summer. The title of the tour is Maiden England and it is an homage to a live video released after their 7th Tour of a 7th Tour, featuring a heavy rotation of their awesome Seventh Son of a Seventh Son album (someone posted the entire Maiden England concert here on Youtube). Seventh Son features Maiden at their most ambitious. It's a concept album apparently based on the Orson Scott Card novel Seventh Son (which I've never read) backed with keyboards, a near heretical concept for a heavy metal band in the late 80s. I can't say every song on the album fits the concept, about a seventh son of a seventh son blessed with "the power to heal, the gift of the second sight … the chosen one," with a smattering of free will vs. predestination, but it works tremendously well as a whole and certainly ranks among their best albums.
The chance to see a great swath of Seventh Son live was too great pass up and today I scored tickets to their June 26 show at the Comcast Center in Mansfield, MA. I can't even tell you excited I am for this show. I started listening to Maiden around 1988 when Seventh Son was their newest album. I was blown away (still am) by songs like "The Clairvoyant," "Can I Play With Madness," "Infinite Dreams" and my favorite on the album "The Evil That Men Do." I recall walking around high school and seeing kids wearing Seventh Son t-shirts with Eddie's legless torso emerging from some arctic sea and wanting my own so badly. Alas, Al Gore hadn't invented the internet yet and your only option was to buy one at a concert or order from an ad in the back of Kerrang! magazine. Alas, I was "out of money, out of luck" (one Eddie point for the first person to name that song reference), and so had to wait until 1991's No Prayer for the Dying before I was able to see them in concert on the No Prayer on the Road tour. By then Maiden had begun a downhill decline and guitarist Adrian Smith had left the band, though it was still an excellent show. I've seen them many times since, but this particular show looks particularly great with its heavy rotation of old material and apparently their old stage set from 7th Tour, featuring faux glaciers, blocks of ice, lots of smoke, and other cool stuff.
Iron Maiden can retire any time they choose to, and I still hold my breath with each studio release, fearing it may be their last. However, Maiden is still producing incredible material, so why should they stop? I'm a huge fan of three of their last four releases (Brave New World, Dance of Death, A Matter of Life and Death; their latest, The Final Frontier, was a disappointment), and they remain creatively vital.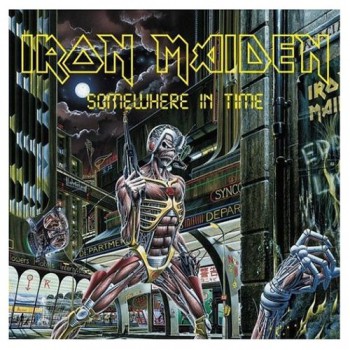 My favorite Maiden album is Somewhere in Time. It has an otherworldly sound and a feel that makes me think of Blade Runner and instantly transports me back to high school (with all the good and bad said mental trip entails). There was a time when I wore through two Somewhere in Time cassette tapes from too many listens. There's just something about this album that resonates deeply with me. Maybe it's the whole package–the mesmerizing cover, the distinct guitar synths, Bruce Dickinson at his peak as a singer, the band at its creative peak–I don't know. In the end, I love it because it exemplifies that metal can be a lot more than just loud and fast, and can aspire to art. Seventh Son of a Seventh Son is right up there too, along with Powerslave and Number of the Beast.
For a sampling of Maiden, here's an early rendition of a live performance of likely their best song, "Hallowed be thy Name," which captures the incredible strength and soaring heights of the "air raid siren" Bruce Dickinson (seriously, listen from 0:40 through 1:22 for a stunning example of the power and splendor the human voice is capable of producing). Here's the official video for "The Evil That Men Do," taking you back to that mythical concert in 1988-89 that I missed.
Is anyone else planning on seeing the greatest heavy metal band that ever was this summer, or have Iron Maiden stories to share? Post 'em here. And Up the Irons!