The World Beats a Path to John Fultz's Door
The World Beats a Path to John Fultz's Door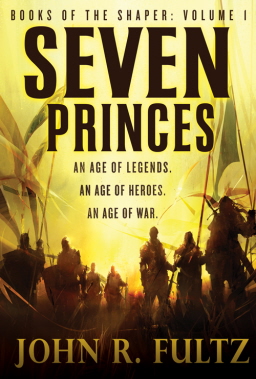 John R. Fultz's first novel, Seven Princes, has been on sale less than two weeks and already it's shaking the walls of the literary establishment, getting rave reviews from all corners.
Last week genre website io9 called it "Amazing… It's epic with a capital EPIC… You sort of wish Frazetta was still alive, just so he could illustrate some scenes from this book."
This week Library Journal checks in with a starred review of their own:
When Elhathym, the necromancer, murders the royal house of Yaskatha and seizes power, Prince D'zan, the sole survivor of the massacre, vows to avenge his family and liberate his homeland. Traveling thoughout the world, D'zan seeks aid from the Kingdoms of Udurum, land of Giants and men; the Uurz Empire, known for its lush, exotic Royal Gardens; Mumbaza, ruled by its Boy-King; and the Kingdom of Shar Dni, a country already under attack from pirates. Thus, seven princes become caught up in a great conflict. Fultz's first novel launches an epic series set in a world in which a race of Giants nears extinction and an aging king delivers himself to the Mer-Queen's justice for a crime committed in his youth… A richly detailed background history filled with the legends of many cultures lends depth to a stand-out fantasy series from an author with an exceptional talent for characterization and world building.
In the same piece you'll also notice a starred review for our buddy Saladin Ahmed's new novel Throne of the Crescent Moon, which they call a "long-awaited debut by a finalist for the Nebula and Campbell awards [that] brings The Arabian Nights to sensuous life."
It's a good week to be a fantasy fan. Check out both new reviews here.