The Night Before Christmas at Black Gate
The Night Before Christmas at Black Gate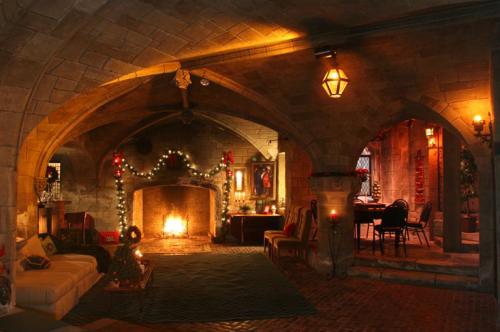 Twas the night before Christmas, with manuscripts read,
The staffers at Black Gate all crouched in their beds.
The cell phones were silent, not one keyboard clicked,
And all there played possum, awaiting St. Nick.
Good children slept soundly, with wish letters written,
Sure Santa would make with that puppy or kitten.
But the staffers at Black Gate were naughty it's said
So they set up an ambush for Santa instead.
But what had they done, what virtues did lag,
That Santa would shun them and keep all their swag?
And drive them to hatch such nefarious ploys,
Such as waylaying Santa and snatching his toys?
The staffers of Black Gate all tried to be good,
They managed their deadlines and worked as they should.
But personal vices began to slip in,
Till all that remained was a long list of sin.
It came from the top and then all rolled down hill,
The staff can't be good when the boss is a pill.
A model of virtue, his values should shine,
Instead he encouraged their rapid decline.
Hoarding is bad, the Ed-in-Chief was the worst,
John trampled on children to get to games first.
But then did he play them, or take off their wrappers?
Hell no, he just kept them to taunt all the staffers.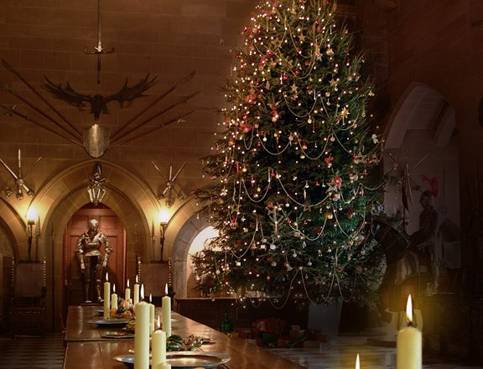 Scott followed John's lead though it wasn't Scott's norm,
He was more into artwork and D&D porn.
But steep is the slope once a person starts sinning,
Next he's watching page counts and dreaming of winning.
Managing Editor Howard, his sin-count once lighter,
Soon bartered his soul to become a fine writer.
Once he'd aided the poor, brought warm soup to hovels,
Now he stands on street corners, hawking his novels.
C.S.E. Cooney though once thought a saint,
Told the Pre-Raphaelite Sisterhood, "The New Yorker we ain't.
The blog needs hot content, and needs it right quick.
And don't give me crap about elves or St Nick."
And dear Jason Waltz who drew heroic doodles,
Soon grew tired of Goodwill and old Ramon Noodles.
"I'll never get rich penning prose that are flawless,"
So he sold out to Facebook and friended the office.
John's W and F, Ryan, Katie and Bill,
All followed suit giving up their good will.
They abandoned their books for new iPads and Kindles
And now lurked in the shadows to pounce on Kris Kringle
Just then, in a twinkling, it was heard on the roof
The prancing and pawing of thirty-two hooves.
The writers grew quiet, they made not a sound,
Then into the office St Nick came with a bound.
But in all of that workplace, one good kid remained,
Though she dressed just in black, all her badness was feigned.
She rallied the interns (who were up on all-nighter's),
She wouldn't let Santa get mugged by the writers.
She spoke not a word but went straight to the task,
She'd create some diversions to scatter the staff.
She leapt up the staircase in rapid ascension,
Then she shouted the key words that got their attention.
"Oh look, Harold Lamb in the yard on the phone!"
Lick-ity split out the door went Howard A. Jones.
"I hear Cameron seeks Seven Princes creator."
And John Fultz went down on the next elevator.
Then three female interns in really short dresses,
Called out, "We're in peril, won't Van Darkmoor save us?"
Jason Waltz then appeared with his PJs askew,
They opened a trap door and watched him fall through.
"Rhode Island needs women! Its men are alone!"
And C.S.E. Cooney was up, out and gone.
The Sisterhood followed without hesitation,
Heading straight as a string for a near Amtrak station.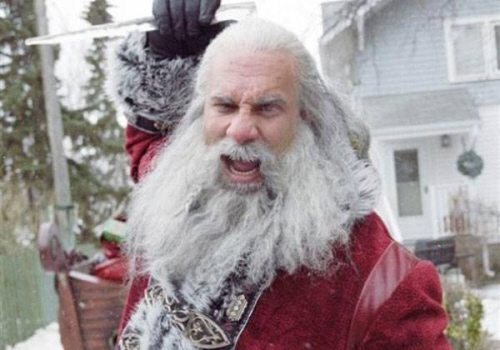 Then John Woolley and Katie and a crazed William Ward,
Came charging at Santa with maces and sword.
"The website's got worms and malware and a virus!"
Yelled Goth Chick just barely averting the crisis.
John, Bill, Ryan and Katie took off in a fervor,
And rushed to the clean room to defend the server.
Then the only one left was John O to send packing,
But he was now woozy from the unopened wrappings.
So Goth Chick saved Santa who fulfilled her dreams,
With a life-sized stuffed bat and a dolly that screams.
"You did a good deed," Santa said without laggin'
"Telling this tale without one Orc or Dragon."
They toasted each other with martini and beer,
"Keep this lot in check and I'll drop in next year."
Then Santa went out through the fire escape,
Till all she could see was his jolly, round shape.
He sprang to his sleigh, to his team gave a whistle,
And away they all flew like the down of a thistle.
Goth Chick heard him exclaim, 'ere he drove out of sight,
"Happy Christmas to all, and to all a good-night!"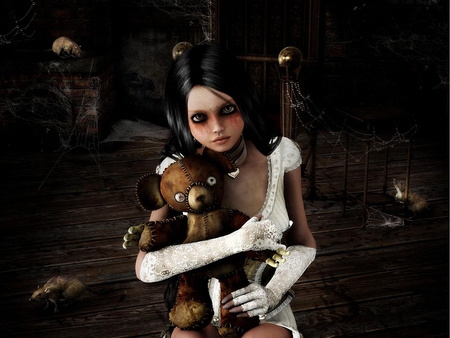 Merry Christmas from Goth Chick News