Enjoying the Unique Character of Karl Edward Wagner's Dark Crusade
Enjoying the Unique Character of Karl Edward Wagner's Dark Crusade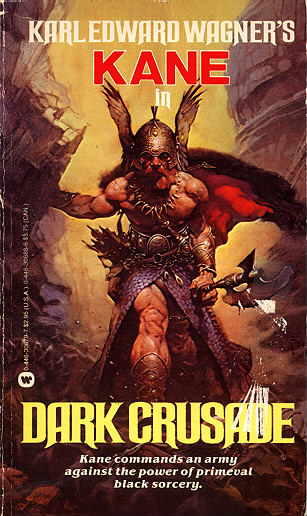 Why has swords and sorcery languished while epic fantasy enjoys a wide readership? In an age of diminished attention spans and the proliferation of Twitter and video games, it's hard to explain why ponderous five and seven and 12 book series dominate fantasy fiction while lean and mean swords and sorcery short stories and novels struggle to find markets (Black Gate and a few other outlets excepted).
During a recent reading of the late Karl Edward Wagner's Dark Crusade (1976) a potential answer coalesced: Many readers want and expect deep characterization in their fiction, and it's simply not a particularly strong suit of the swords and sorcery genre (or at least of classic swords and sorcery, circa 1930 through the early 1980s). Wagner is one of a handful of classic swords and sorcery authors to whom history has not been particularly kind*. His dark, God-accursed hero-villain Kane deserves a place alongside Conan or Fafhrd and the Gray Mouser in the roll of great genre heroes, but is sadly left off many "best of" swords and sorcery lists. Relegated to the status of cult figure, Kane is the darling of heroic fantasy connoisseurs but unread of by many casual genre fans, and unheard of by most of the larger fantasy fan base.
Kane and many of his swords and sorcery ilk are not what most modern readers would consider fully realized characters. You just don't get anything close to the same level of introspection and cradle to the grave development of Kane in Dark Crusade as you do of, say, Kvothe in Patrick Rothfuss' The Name of the Wind.
Now, before the Conan fans complain that Conan evolves greatly from his days as a brash young rogue in "The Tower of the Elephant" to a jaded king in "The Phoenix on the Sword": I agree, he does. But Conan's development takes place across stories, with Howard showing a character in different stages of his life. It's very rare to get that type of coming of-age bildungsroman development within a standalone swords and sorcery tale. You do in David Eddings' popular five book The Belgariad series.
The same pattern remains consistent in Dark Crusade. Wagner doesn't spend time explaining why Kane is the rootless dark drifter to whom we're introduced. There are no flashbacks to his childhood or to life-altering tragic events leading to his current cynical worldview. Wagner paints Kane using a few bold strokes of color and then moves on to the story. Swords and sorcery fans accept this limited characterization, but other readers have different expectations that can lead to disappointment (on a related note I think this is why a lot of S&S fans are so aggravated by Conan the Barbarian, both the 1982 version and the new half-assed remake. We don't need a complete origin story, thanks. Get to the story!)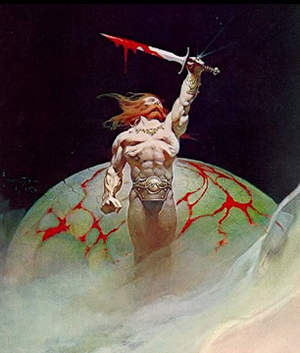 But rather than viewing this as a limitation I find the conventions of swords and sorcery a welcome change of pace. I enjoy theorizing and speculating as to who (or perhaps more accurately what) Kane really is without needing it all spelled out. We know a few tantalizing details: He doesn't care for life's pleasures because he knows that they're hollow. Kane exalts combat because military conquest is one of the few things he can control. He has no compunctions about destroying those who would kill him. Why? We're not entirely sure. But that's okay—our minds can fill in the gaps. Only by reading all of the short stories can a coherent background be pieced together. But understanding Kane is not necessary to enjoy the stories, including Dark Crusade.
Characterization is certainly not beyond Wagner's capabilities as a writer. In fact, he performs a neat trick in Dark Crusade by transforming the foil Jarvo from one of the least likeable characters imaginable—a preening, egotistic, overconfident jerk—into, if not a sympathetic figure, then someone whose black vengeance you cheer to see fulfilled. George R.R. Martin rightly deserves praise for doing something similar with Jaime Lannister in A Song of Ice and Fire, but Wagner did it thirty years' prior, and in far fewer words.
I just think characterization wasn't Wagner's motivation for writing the Kane stories, and I can accept that the priority of swords and sorcery is mood, atmosphere, and story. It's not emotional immaturity or anything of the sort that critics frequently ascribe as a flaw of the genre, just a different way of telling a tale. Storytelling is not mathematical formula; it's art.
Dark Crusade contains all I ask of a swords and sorcery tale. You've got gonzo chaos and destruction with three factions killing each other, none of whom are particularly worth cheering for. The world is devolving into chaos with the next cycle of orgiastic violence ready to break out at any moment. Orted Ak-Ceddi touches flame to powder by reviving the cruel cult of Sataki. Soon he draws thousands of converts to his dark crusade. After suffering a crushing military defeat (hordes of undisciplined, poorly armed foot soldiers are no match for heavy disciplined cavalry) Orted enlists Kane's expertise to his side. Kane, ever the cold-hearted pragmatist, joins the cultists' side to line his pockets and further his own ambitions.
In and amongst the swordplay and scheming Dark Crusade is a commentary on religious fanaticism. The hordes of followers of the Cult of Sataki for whom Dark Crusade is named destroy all non-believers, flatten great art and architecture, and crush free thinking. The choice is simple: conform or be killed. Worth noting too is the vivid atmosphere of the tale: demon haunted towers, battlefields yielding red harvests, cities buried beneath the sands concealing relics of eldritch magic. Given this potent brew of story and atmosphere, is deep characterization also a necessity? No.
The last chapter "In the Lair of Yslsl" (originally published as a standalone story in a period magazine) is downright trippy, blurring the line between author and creation in a disturbing meta-textual reverie on consciousness and being. Though Kane is battling a demon struggling for possession of his mind it can be read as a commentary on the enormous problems inherent in trying to solve the workings of the human brain and pin down the slippery "I" (Wagner in life was an MD and worked briefly as a psychiatrist):
His thoughts drifted, and his thoughts were pain. "Am I insane? Am I insane? Shouldn't I know something? Shouldn't I know something? Shouldn't I be somewhere? And where is here—and is it anywhere? And who am I—and am I anyone?"

And cosmic horror wrenched at his soul—horror surpassing all that had haunted him. He did not know.

He did not know. Where. How. Why. When. Who. If. Ever. Who.
Through sheer will Kane wrests his dissipating mind back together. I am Kane! He roared at nothingness, but Kane himself is not in our ken to understand. And that's okay. After all, how much can one soul truly know another, let alone itself? Let teachers and priests and philosophers brood over questions of reality and illusion. In swords and sorcery and in Wagner's tales of Kane, story is all.
* Part of the blame for Wagner's obscurity resides with his literary estate. Although you can find the 1970s and 80s Kane paperbacks relatively cheap they are currently out of print. Reissues in 2002 and 2003 quickly sold out and now command high prices. Centipede Press is about to issue a high-priced volume of Wagner's horror/weird fiction, but it will not include the Kane stories, it seems.