Art Evolution Special: Erol Otus
Art Evolution Special: Erol Otus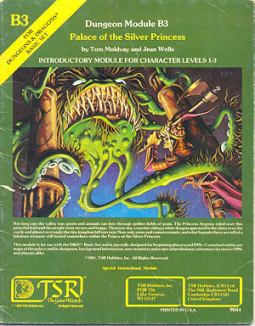 Erol Otus hates me… It's a dead on fact, something that can't be changed, I'm afraid, and yet I find myself having a hankering to talk about him in a favorable light. I went after Erol for Art Evolution, and he was the very first artist I'd never met to get an invite to the project. Erol wasn't interested, and no matter what I did to try to entice him he just kept getting further away from a commitment. It's the name of the game, a numbers game, and John O'Neill once told me that if I went out to get 20 artists and my approach had a capture rate of 19, then whatever went wrong couldn't be put on me.
Still, the more Art Evolutions I did, the more I found people asking for Erol and what his contribution would look like. Erik Mona over at Paizo went so far as to say that without Erol my project would never be complete.
To tell you the honest truth, when I was young I detested Otus's contributions to the field. I thought his work was that of a child among men, and if you showed me an Otus image I'd sneer at it in veritable disgust. Remember, however, that youth doesn't represent good taste, and certainly as the years went by and my eye for art changed, a greater respect grew for Otus's work. Now that's not to say it became 'better' art, but it did facilitate a nostalgic bent to my youth that softened its edges and helped me accept what it was.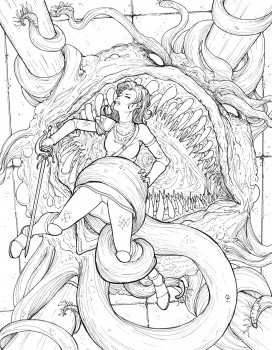 What was it? You might ask… Well, it was different. Of those who worked at TSR's beginning, Otus was the only one that truly jumped off the page as different. Willingham and Dee were comic artists, Roslof a throwback to Norse stylings, and Sutherland a campy fellow who might have had better luck selling images to children at a Renaissance Fair.
At his core, I think Otus was weird, and weird translated to memorable. So memorable in fact that as I put this project together artists asked after Otus. They even signed personal notes that I sent to Erol in hopes his contemporaries might persuade him where I couldn't. No luck.
It wasn't until Eric Vedder actually did an Otus homage tribute that I saw just how important this artist was to his genre. In its very nature such a realization was devastating, as Erik Mona may have been right all along. Perhaps Art Evolution was indeed nothing without Erol Otus, and so I had to accept that no matter what I did and who I included I'd somehow managed to fail.
Yes, in some kind of self-deprecating way this made sense, and it wasn't until a friend of mine in the industry made light of the situation that I finally figured out that enough was enough. Thanks to some fine work in Photoshop, not done in any way, shape, or form by me, everyone here at Black Gate has a chance to see an Otus Lyssa, and I hope you all enjoy!
---
Lyssa, by Erol Otus
Sorry, for copyright purposes the image can be no larger.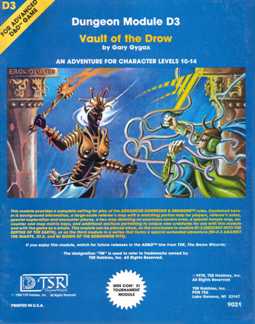 When you think of Erol, you are transported to the early days of TSR, the likes of Jeff Dee, Bill Willingham, Jim Roslof, and David C. Sutherland III coming to mind. All had distinct styles, but Erol is the most easily picked out of a crowd.
He brought forth the weird and almost formless creations that earned him the moniker 'the master of eyes and mouths'. Otus is a dichotomy, an artist who is either loved or loathed without middle ground and yet in so doing becomes galvanized as the most easily recognizable artist of the early years of RPG art.
Bringing his talents to the first inception of the TSR 'pit' in the late 1970s, Otus contributed with inspired black and white, but it wasn't until he premiered as a color cover artist in D3: The Vault of the Drow that we truly understood his talent. Not only can Otus be credited with perhaps the greatest artistic contribution to gaming ever in this work, the Drow, he also shows us firsthand what he can do with the composition of organic form. In that classic module Otus gave us all our very first glimpse of the dark elves in sumptuous acrylic, but even more so he showed us just what he was capable of in living color, and it was masterful.
Erol is all about flow, his works depicting movement not only of the subject but also the form of the character as well. His landscapes ooze onto the pages, his items and equipment become more of an appendage than an implement, and his use of color is subdued in a realm of perpetual eerie 'glow'.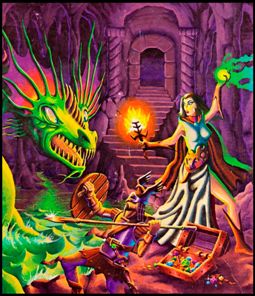 To say Erol brings an unearthly quality to his work is like saying Gygax had a small part to play in the creation of the RPG. Otus creates an almost primordial soup of fantasy, a realm slipping out of the very fabric of time-space to grace the pages of flimsy earthly texts like a Lovecraftian aberration.
Erol mastered tentacles, mouths, and eyes in such a devious fashion that we expect such corruptions in his work to nip at our fingers as we search relentlessly for gaping skulls, slime pits, and fungal-headed pigmies dancing in the shadows of each creation.
In the worlds of 70s RPG, Erol Otus was a rogue; a 'against the grain' artist who threw what was expected out the window and instead allowed us to look at an alien landscape of pure horror and twisted beauty.
Otus creates anything but cookie-cutter art, and that's why his art jumps from the page in such a way. We recognize him, we almost know him; and his works somehow, almost impossibly, compliment those of his peers.
In his time at TSR Otus contributed to over thirty supplements, yet his style retained the same otherworldly bent over a full decade even as the industry moved to different artists and more precise mediums. When all is catalogued concerning the art of this dawn of gaming, I think Erol Otus might be considered by some a genius and by others the black sheep of early TSR, but there is no doubt that Otus is remembered, and that is the key to greatness, a irresistible knack for planting a seed in the minds of viewers that will span the test of time.