Sara Douglass, June 2, 1957 — Sept 27, 2011
Sara Douglass, June 2, 1957 — Sept 27, 2011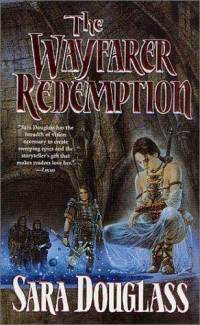 Sara Warneke, the Australian fantasy author who wrote under the name Sara Douglass, died of ovarian cancer on September 27, 2011, at the age of 54.
Sara wrote a total of 19 novels, beginning with the first book of what became The Axis Trilogy, BattleAxe, in 1995.
All told she wrote five major fantasy series: The Axis Trilogy, The Wayfarer Redemption, The Crucible, The Troy Game, and Darkglass Mountain.
Outside of Australia, The Axis Trilogy and The Wayfarer Redemption were combined into a single six-book series, called simply Wayfarer Redemption.
Sara also wrote Beyond the Hanging Wall (1996), Threshold (1997), The Devil's Diadem (2011), and the non-fiction The Betrayal of Arthur. The Hall of Lost Footsteps, a collection of short stories, is due from Ticonderoga Publications this year.
Sara was born in Penola, South Australia, and attended Annesley College in Wayville. She became a registered nurse, and eventually completed her Ph.D. in early modern English History. She was a lecturer in medieval history at La Trobe University in Bendigo, where she completed her first novel, BattleAxe, in 1995.
Her Wikipedia entry, with a complete listing and links for her novels, is here.
She lived in Tasmania, and was first diagnosed with ovarian cancer in 2008. She underwent successful treatment that year, but the cancer returned in 2010.