Art of the Genre: Paraffin dreams and dye contemplations
Art of the Genre: Paraffin dreams and dye contemplations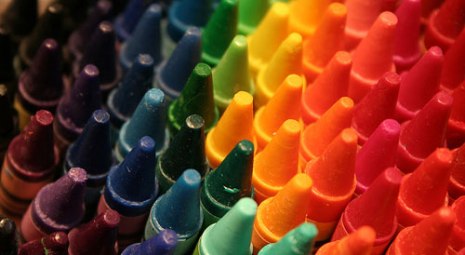 School is getting back in session, the joyful days of summer turning into a slog of winter, and yet for one small moment in time the thought of school isn't such a bad thing in kid's minds. Why, you might ask? Well, because of the chance to shop for school supplies, and this is especially true for the younger set.
I'm sure most of us can well remember heading to the store where you got to go down the school supply isle like it was Christmas morning. Everything was new, crisply packaged, and waiting to be organized into that perfect set of a survival gear for the beginning of classes. In a sense, it was almost like you were a little soldier, explorer, adventurer, etc, and that Trapper Keeper was your backpack ready for the unknown.
The freshness of it all certainly wore off quickly, and sometime around the third week of school things in your possession weren't anywhere close to as shiny, but for a few brief days you had freshly sharpened #2 pencils, a binder where the plastic cover exposed the artistic vision of your choice without scrape, rip, or oxidation, and of course a pristine set of Crayola crayons.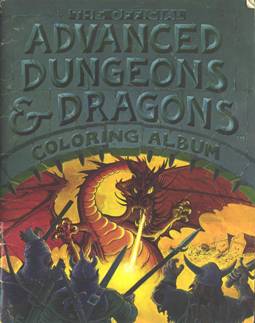 Those multi-colored and waxy wonders were certainly my favorite part of the new year, and I can still remember pulling open the protective flap to find each one crisply squared at the tip and inviting. I'm sure it was with some trepidation that I slipped the first choice out from between its brethren as my small fingers grasped the tip, the other colors pushing into the vacated space like riders on a crowded bus when someone finally debarks after a long lag between stops.
After that first color touched the page the sharp edges quickly wore down and another joined it until the usual suspects were semi-worn numbs of primary color brilliance. I well remember graduating from an 8 pack of crayons to the triple row 24, and finally the master set of 64. [Just as a side note, you can actually build a custom 64 pack at Crayola's website, although there is a 15 day lag on delivery]
There has to be a testament to choice and selection here, as I'd love to go into primary schools in November and randomly log crayon boxes to see how many virgin colors remain. Certainly red is a first to go, followed quickly by green, brown, yellow, and blue, our world somehow being made up of those colors in almost every child's mind.
I almost feel sorry for the odd colors, the Burnt Sienna, Apricot, Goldenrod, Granny Smith Apple, Magenta and even the sad shade of Cerulean… I mean seriously, how many children are going to choose anything that has 'burnt' in the descriptor?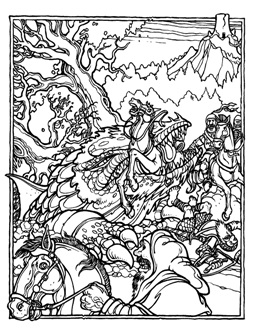 For me, this year's walk down memory lane serendipitously coincided with an email from Tony DiTerlizzi as I went about preparing my five year-old son for the start of another school year. Tony, being Tony, had recently acquired a copy of The Dungeons and Dragons Coloring Album and asked if I would like to take a look at it.
Is that really a question? OF COURSE I WANT TO TAKE A LOOK AT IT! A couple of downloads later I've got a copy of some fantastic line art ready to roll off my printer for the, as my wife puts it, 'better corruption of my son's imagination'. Within the day I'm happily explaining why the elf is pointing out details on a map to humans, what a Halfling is, why adventuring parties seem to enjoy always starting off grand campaigns in a tavern. You know, the standard welcome package for all things geek.
We both set out on a road to coloring greatness, and for the first time since 2nd grade I was wishing for that 64 pack instead of the heavily used 24 we unearthed in one of his art boxes. As I worked with him on the image I was taken with the work of artist Greg Irons who penned the entire book for Troubador Press back in 1979. Iron's work takes a page from artists like Sutherland, Tramp, and Roslof, the style helping define a plethora of monsters found in the pages of the 1E Monster Manual. My favorite among the pictures has to be his Bullet which sports a spiny exterior not seen in other renditions.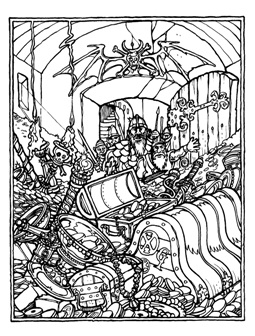 The coloring album, for those of you who haven't seen it, also functions as a game, the coloring pages following the exploits of an adventuring party as they go in search of the Holy Talisman of St. Cuthbert. You can do it solo, or with up to 4 players, and there's even a dungeon map in it if you want to get truly nostalgic.
There are over fifteen pages to color in the book with the bulk of them being action shots that help define many encounters in the games' dungeon, and of course at the end there is a treasure trove that makes it all worth the effort. If I remember correctly, there is a metallic set of Crayola's out there, and I can well imagine just how fantastic this hoard would look if those were employed. As I studied this final scene I couldn't help catalogue possible magic qualities for the items seen within, although I didn't see the Holy Talisman anywhere, but perhaps it's within a trapped chest as it should be.
I must admit, at my age I was mentally begging for a colored pencil by the end of our crayon extravaganza, but that in no way lessoned the impact of my son and mine's enjoyment of this adventure into D&D coloring. The act of adding pigment to a black and white image hasn't subsided for me over the years, it seems. I suggest that if you ever get a chance, or are out shopping for your own children's school days, not only should you pick up some crayons, but use them! Oh, and if you want a copy of some of the images in the album to experiment with, you can find them here.