Is it too early to call Conan the Barbarian a Bomb?
Is it too early to call Conan the Barbarian a Bomb?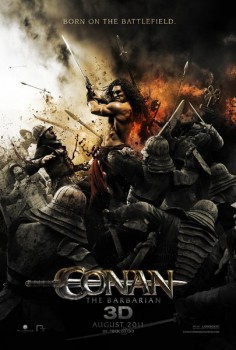 With a second weekend now under its belt Conan the Barbarian looks on track for an anemic $17 million in total domestic ticket sales, according to Box Office Mojo.
Considering it cost an estimated $90 million, and projections for total box office now look dismal, the film is already being called a bomb in the press. As other sites have noted, it squeaked out just $10 million in its first weekend — barely more than the original, and that was in 1982 dollars.
Screenwriter Sean Hood has already posted a thoughtful answer to the question "What's it like to have your film flop at the box office?" at Quora:
The Friday night of the release is like the Tuesday night of an election. "Exit polls"are taken of people leaving the theater, and estimated box office numbers start leaking out in the afternoon, like early ballot returns. You are glued to your computer, clicking wildly over websites, chatting nonstop with peers, and calling anyone and everyone to find out what they've heard. Have any numbers come back yet? That's when your stomach starts to drop.

By about 9 PM it's clear when your "candidate" has lost by a startlingly wide margin, more than you or even the most pessimistic political observers could have predicted. With a movie it's much the same: trade magazines like Variety and Hollywood Reporter call the weekend winners and losers based on projections. That's when the reality of the loss sinks in, and you don't sleep the rest of the night.

For the next couple of days, you walk in a daze, and your friends and family offer kind words, but mostly avoid the subject. Since you had planned (ardently believed, despite it all) that success would propel you to new appointments and opportunities, you find yourself at a loss about what to do next. It can all seem very grim.

You make light of it, of course. You joke and shrug. But the blow to your ego and reputation can't be brushed off. Reviewers, even when they were positive, mocked Conan The Barbarian for its lack of story, lack of characterization, and lack of wit. This doesn't speak well of the screenwriting…

Here I sit, coffee cup steaming in its mug and dog asleep at my feet, starting my work for the day, revising yet another script, working out yet another pitch, thinking of the future (the next project, the next election) because I'm a screenwriter, and that's just what screenwriters do.

In the words of Ed Wood, "My next one will be BETTER!".
A fascinating read — anyone who can optimistically quote Ed Wood in the face of real adversity gets my grudging respect. You can see the entire article here.