Pottermore Revealed: Unique "Online Reading Experience" says Rowling
Pottermore Revealed: Unique "Online Reading Experience" says Rowling

Harry Potter author J.K. Rowling announced this morning (video here) that she will be releasing
"something unique: an online reading experience unlike any other. It's called Pottermore. It's the same story, with a few crucial additions. The most important one is you. Just as the experience of reading requires that the imaginations of the author and reader work together to create the story, so Pottermore will be built in part by you, the reader. The digital generation will be able to enjoy a safe, online reading experience built around the Harry Potter books."
She claims that this new website will include not only the ability to buy digital audiobook and e-book versions of the Potter series, but also that she will be directly involved with the community, revealing tidbits about the universe which she's known for years but which never made it directly into the novels.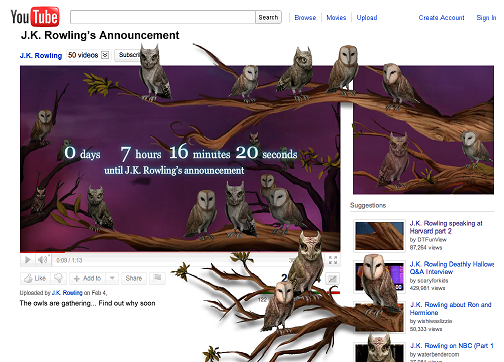 For about a week, rumors have been swirling across the internet about the exact nature of Pottermore, since Rowling established a website by that name and a mysterious countdown clock appeared on YouTube (shown below).
Speculations ran wild throughout the week, fueled by tantalizing clues, some of them intentional, such as an online Google Maps-based game, and some unintentional, like the discovery that Warner Bros. had registered the website for trademark as a "global information computer network."
Rowling and her spokesmen have been quiet on the details, except to stay that it is definitely not a new novel set in the Harry Potter universe, but still some have wondered if it was the long-anticipated Harry Potter encyclopedia, which Rowling has hinted may someday be released for charity.
The Guardian tried to give a bit of the game away with an early news release, indicating that the announcement will be related to an online game that will provide clues to hidden rewards in the real world, sort of a Potter-based geocaching event. The question which remained open was whether the hunt was an end in itself, or if it was part of a larger marketing strategy for some other product, such as e-book releases of the Harry Potter stories, an interactive website, or maybe even a full-on immersive internet game. It's still unclear how the leaked memo about this treasure hunt relates to this online reading experience, or whether it was perhaps a red herring. Rowling made no direct mention of gaming elements on the website, although she left it vague enough that I wouldn't be surprise if games are included on the site.
With the upcoming release of the final Harry Potter film, it's a good time for Rowling to leverage the interest in the franchise to move in a new direction. Discussions over Harry Potter are still lively, as evidenced by (among others) this one about the literary merits of the Potter series, and this sort of interactive experience is sure to gather a lot of engaged users (and further debates about the future of e-publishing).
Rowling ended the announcement with a cryptic clue, that it is possible to take part in the experience prior to October, by becoming part of a select group of early users. To do so, you must "follow the owl." It's hard to make clear how to interpret this clue, but Mashable indicates that information about early participation will show up on the Pottermore website July 31, though if Rowling said that in the announcement, I somehow missed it.
View the official announcement at this link.
Update: Since I initially wrote this post, I see that the Pottermore website has been updated so that you can enter your e-mail to get announcements (although, at the moment, it won't let me do so, because it's overburdened). This site also is the source of the July 31 date, claiming that information on early participation will be available at that time.