Goth Chick News: Colin Farrell Can Bite Me
Goth Chick News: Colin Farrell Can Bite Me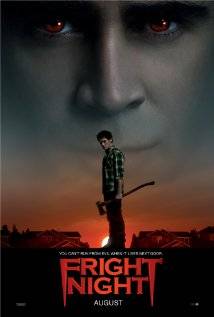 If you're looking for a sparkly vampire who marries humans rather than eats them, check back in around November when I can promise you there will be no mention of such atrocities here.
No way.
Here at Goth Chick News we do not condone the colorization of black and white movies, the censoring of controversial reading material or, blasphemy of blasphemies, the wussification of folklore monsters. Here, the Wolfman is not "misunderstood," Frankenstein is the name of the doctor, not the monster and vampires are ruthless killers without the slightest bit of angst.
In other words; Colin Farrell.
If unlike me, you don't have a widget countdown clock on your computer screen checking off the minutes until August 19th then let me remind you that is the release date for Fright Night.
True, it's the remake of a 1985 groaner that had almost as many good moments as it had bad, only not quite. But from the looks of the latest trailer, the 2011 version bears only a passing resemblance to its predecessor.
The premise is the same; a small-town teenager starts piecing together some odd local occurrences until they point toward his new neighbor being a vampire. And the characters' names are the same, already spawning what is sure to be one of my favorite lines from the movie: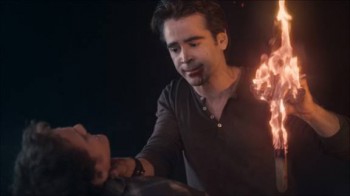 "Jerry? That's a terrible name for a vampire."
But, whereas Chris Sarandon (yes, he was Susan's first husband) made Jerry Dandridge seem sort of scary, Colin Farrell plays him downright sadistic; the immortal killer who relentlessly and tirelessly pursues his prey.
In 1985 you felt young Charlie Brewster had a chance of taking him out. But in 2011 you're not so sure.
Plus, Colin Farrell has that half crazy amused look on his very pretty face that comes so naturally that you wonder if the guy is a bit off in real life.
Add that to director Craig Gillespie's sort of creepy outlook on life (look him up if you don't believe me) and you can expect to find me screaming like a little girl from the middle of the theater on opening night.
Check out the latest trailer and tell me I'm wrong.
Are you going to see Fright Night and were you a fan of the original? Leave a comment or drop me a note at sue@blackgate.com and tell me which horror movie you'd like to see remade and who you'd like to see cast in it.