Writers of the Future: I Got an Illustration . . . and an Interpretive Dance!
Writers of the Future: I Got an Illustration . . . and an Interpretive Dance!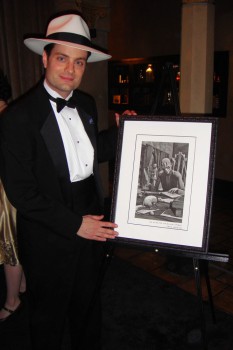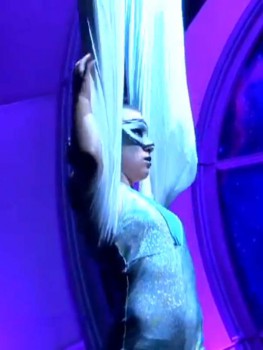 I have returned after a two-week hiatus from Black Gate. It was a — busy time.
To get this out of the way first: Yes, I gave a shout out to Black Gate in general, with John O'Neill, Howard Andrew Jones, and Bill Ward in particular, when I accepted my award at the Writers of the Future Ceremony on 15 May 2011 at the Hollywood Roosevelt Hotel. (Here is the video of my section of the event, starting with the dance.)
When I started to write with the aim of publication — I don't remember the exact moment when my love of writing began to seem like a possible profession, but it occurred about fifteen years ago — I liked to imagine a time when a professional artist would make an illustration of one of my books or stories. However, I never imagined that professional acrobats and dancers would create an interpretive dance of one of my stories as well.
I received many great gifts from my time at the Writers and Illustrators of the Future Workshop in Hollywood last week. Some are the tangibles like publication in a major anthology, a gala awards ceremony, my first official book signing, and payment. Some gifts are social, like a new network with the other winners as well as with the many celebrated writers and illustrators who make up the judging panel and the workshop teachers. All of us at the workshop will carry away a lifetime's worth of advice, on everything from story construction to the best way to avoid getting a cold while on a book-promotion tour, from people such as Tim Powers, Robert J. Sawyer, Gregory Benford, K. D. Wentworth, Eric Flint, Dr. Yoji Kondo, Kristine Kathryn Rusch, Nina Kiriki Hoffman, Kevin J. Anderson, Dave Wolverton, Rebecca Moesta, and Mike Resnick.
There's plenty for me to say about the experience of the workshop and getting published in Writers of the Future Vol. XXVII, and I will say more in future posts. But for this post, I am going to delve into the purely emotional and personal high points: the picture, and the dance. The first I knew was coming — and it was better than I could have imagined. The second I did not expect — and no surprise could have been more sublime.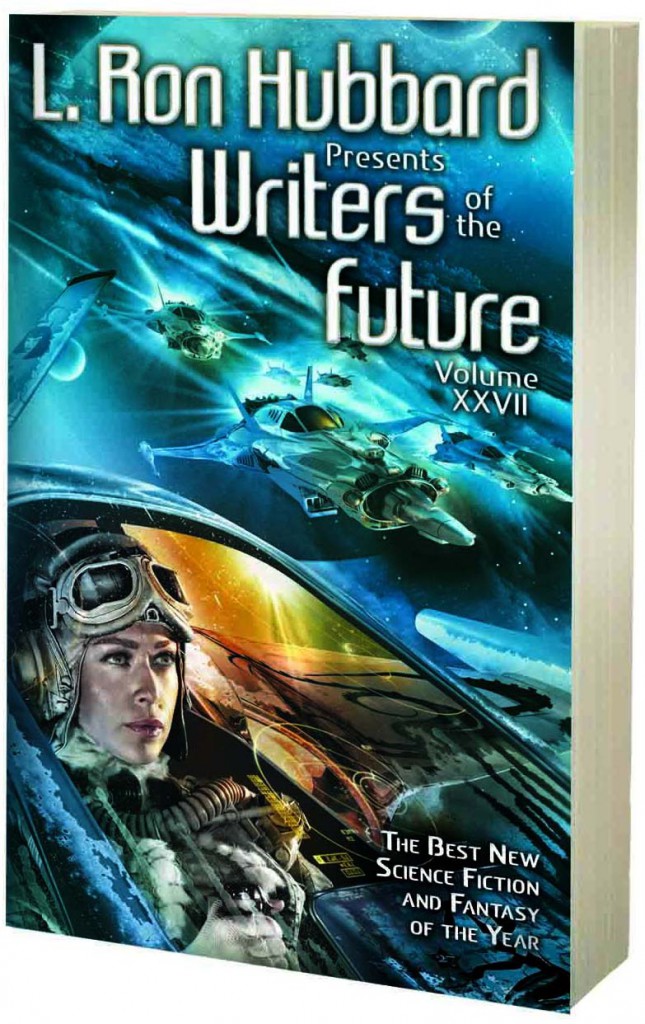 The Writers of the Future Contest, now in its twenty-seventh year, runs concurrent with the Illustrators of the Future Contest. Each of the twelve winning stories selected for the annual anthology is paired with one of the illustrators, who then creates an image based on the story to appear with it in the book. The editors make the selection of which artist fits best with each story, and the writer only gets to see the illustration two days before the awards ceremony and the unveiling of the book.
I found out who my illustrator was three months before the workshop when I received the corrected proofs for my story, "An Acolyte of Black Spires." On the title page (the spot where I would spend all Sunday night scribbling my illegible signature) below my name was the legend: "Illustrated by Fred Jordan." That was all I knew, although I did find Fred Jordan's website and got a taste of his amazing and dark-hued art. I looked at his images of the Greek gods and thought, Yeah, this is probably a good match. But I could only speculate about what Mr. Jordan would imagine on canvas for my story about a scholar of the masked race of the Eldru who lived in a basalt tower in my science-fantasy world of Ahn-Tarqa.
During the first days of the workshop, the other writers and I buzzed about what we thought our illustrations would look like. The illustrators had their workshop separate from ours in the Author Services building, but the two groups spent time together during the evenings at the Roosevelt Hotel lobby and in Hollywood restaurants. (This was the first time I have really looked at Hollywood with a tourist's eye; it's been part of "my neighborhood" for more than thirty years, and now I could truly see that, yes, it's one bizarre place.) I started to get to know some of the artists, especially Ryan Downing — who traveled the farthest of all of us to get to the workshop, coming from Johannesburg — Vivian Friedel, and Meghan Muriel. However, I only said a brief "hello" to Fred Jordan, because otherwise I might bombard him with questions about his illustration. Jordan Lapp, a previous winner in the contest who served as a sort of liaison for us newbies to get to know the judges (it's hard for someone like me to just waltz right up to Larry Niven and start talking), told us that the mini-ceremony where the writers finally got to see their illustrations was an amazing moment, and the less we knew beforehand, the greater the unveiling would be.
Friday morning arrived, and the winners of both contests crossed Hollywood Blvd. from the Roosevelt Hotel to the main floor of the Author Services building for the official presentation. Inside the gallery room, the thirteen illustrations (there was a non-winning finalist story in the anthology, so one of the artists did two illustrations) were placed on easels and set in a ring. The illustrators went into the room first, found their image, and then gathered in a circle in the middle of the room. Then, the contest coordinators ushered the writers in and instructed us to walk the perimeter and see if we could find the artwork made for our story.
I had run thousands of possibilities through my head for what "An Acolyte of Black Spires" might appear like when put to paper. As I moved past each framed picture on its easel, I thought I could see my story emerge — only to come close enough to realize, "No, that's not it. That's wonderful, but it isn't my story. Someone else will be very thrilled."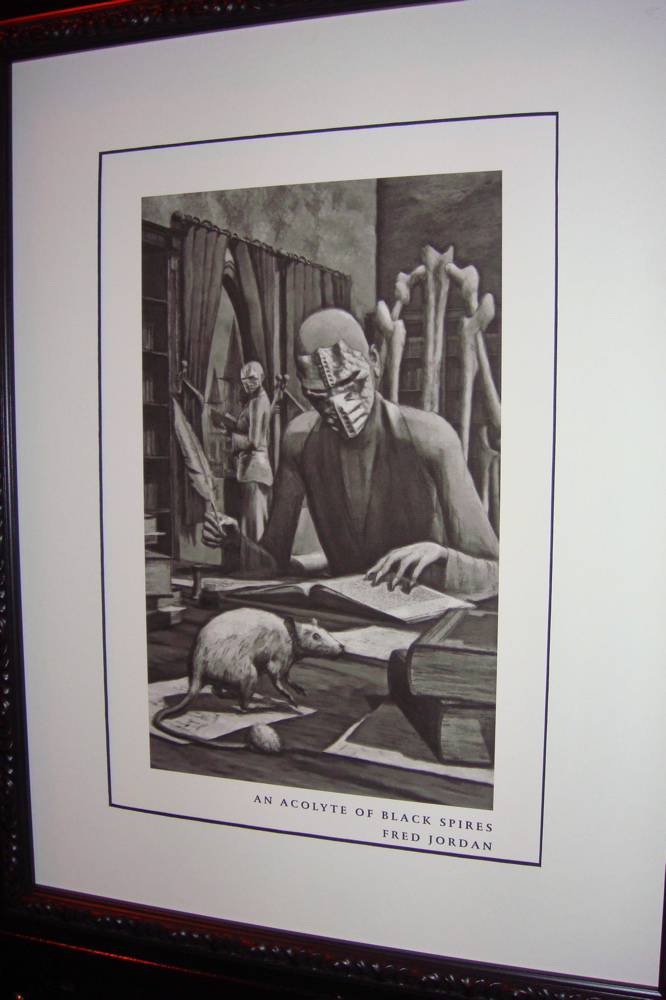 My roommate for the week, Van Aaron Hughes, was moving around the circle the opposite direction. As he passed me, he remarked, "Saw yours." Aaron had read a copy of my story the first night, and because he could identify the illustration as from my writing, I knew I had nothing to worry about.
And then — there it was.
I was supposed to raise my hand to show that I had located the picture and signal the illustrator to come over. But the image in front of me so stunned my sense of storytelling that I just gaped in amazement for minute. "An Acolyte of Black Spires" is more than a single novelette to me; its characters expanded into other stories and eventually into a novel that has become a huge part of my life. Seeing its two protagonists, Hallett and Quarl, realized on a canvas was — well, this is a horrible admission for a writer to say, but it left me at a loss for words.
I don't have jpeg file of the picture yet, but I do have this photo taken at the awards ceremony. (Thanks, Dad! Good angle, no flash reflection.) And the framed picture is currently hanging on my wall. Nothing I can show you right now can do the work justice. It's a nuanced, shaded piece, and filled with an intense emotion through the postures of its figures that I never dreamed an artist could capture. The first element I noticed was the masks. Masks are a key part of the story's aesthetic, and I felt certain they would make it into any illustration. I had a strong idea in my head what they looked like, but Fred's version is better. He caught the ideal of the implacable nature of the Eldru's face-coverings and the texture of dinosaur hide, yet he added details that made them both more sinister and more capable of emoting.
However, it is the tension between the two characters in the frame that hit me the hardest, because the way that Hallett from the window gazes over her shoulder to look at her Master bent over his desk with his quill and open tome tells almost the entire theme of the story. I hoped to get an image that would capture the look of my story, but I had not dared to hope that in a single glance over a shoulder that I would get an image that said, "This is your story."
Now, the dance.
I attended the 2010 Writers and Illustrators of the Future Awards Ceremony to get a hint of what would happen the next year when I would have to take the podium. At beginning of the ceremony, a troupe of dancers, acrobats, and silk aerialists took the stage and performed a complex routine that would make anybody's joints hurt simply to watch. I found out at the signing afterwards that the choreographer and the dancers, from Dance Makers, Inc. of Tampa, interpolated images from some of the winning stories into their routine.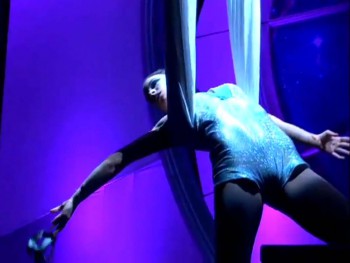 Flash-forward to 2011. I knew the same dance troupe would perform before our ceremony, and judge Kevin J. Anderson told me we could expect some "surprises" on stage. Hmm, I pondered while simultaneously wondering if I could stumble through the dry "thank you" speech I had scribbled down on lined paper torn from my spiral-bound notebook, perhaps they might use something from my story.
The ceremony started at 6:30 p.m. in the Blossom Room (where the first Academy Awards were held) with another huge dance performance — but nothing that I could identify as from my story, or anybody else's that I had read. Oh well, perhaps they aren't doing that this year, I thought.
Then, before Dave Wolverton came on to announce winner Patrick O'Sullivan for his wonderful fantasy story "Maddy Dune's First and Only Spelling Bee," the lights went down and the dancers came back on stage to perform a routine with a flying broom and a half-human woman conducting spells. At the time I had yet to read Patrick's story, but when he took the stage to receive his award, he mentioned how amazed he was to see a scene from his story acted out in dance.
Oh, so they are doing it this year, I realized from my seat, wringing my hands. They're picking out a few stories and performing them as "breaks." I wonder if they will do that with mine?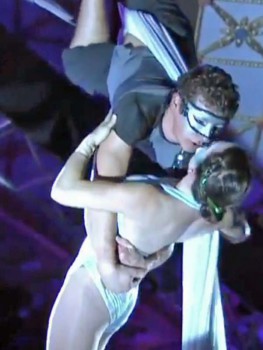 A few more speeches went past — the awards were handed out in the order the stories appear in the anthology, and "An Acolyte of Black Spires" is the fifth — and I started to forget about dancing and worried more about making a speech in front of a huge crowd and thousands of Internet viewers. I was due to come on after illustrator Dustin D. Panzino received his award for his work for Richard Johnson's "In Apprehension, How Like a God." (Richard went on later in the evening to win a much-deserved Gold Prize for his story.) Dustin finished his speech and left the stage with — appropriately enough for a Latin scholar like me — the Carpe diem. ("Seize the Carpet.")
And then the lights went down. . . .
. . . and I knew. Yes, the dancers we're going to perform a routine to "An Acolyte of Black Spires."
I turned around in my seat in the dark; Fred Jordan was sitting behind me. I whispered to him, "Fred — they're doing our story!"
About halfway through the performance, when the lovely dancer Chelsea Meredith swung skyward on a scarf toward the masked figure hovering over her, I completely lost it. It had been a long, tense, emotional day — and this hit me creatively in an astonishing way. Chelsea, like Hallett, took off her mask, and rose up to Quarl's arms, removing his mask before embracing him. Like Fred's illustration, it was perfect. It was my characters. Someone thought them worthwhile enough to re-imagine in another art form. I cannot think of a greater compliment.
There is no need for me to describe the dance further, since you can see it here, starting at the 1:16:00 mark. After Doug Beason announces me, you can see that I'm blubbering a bit. Hadn't quite recovered. But I still had the wits about me to thank Black Gate!
So, seize the carpet, and I'll come back with less personalized babble about the Writers of the Future next week.
Chelsea Meredith with me at the signing afterwards: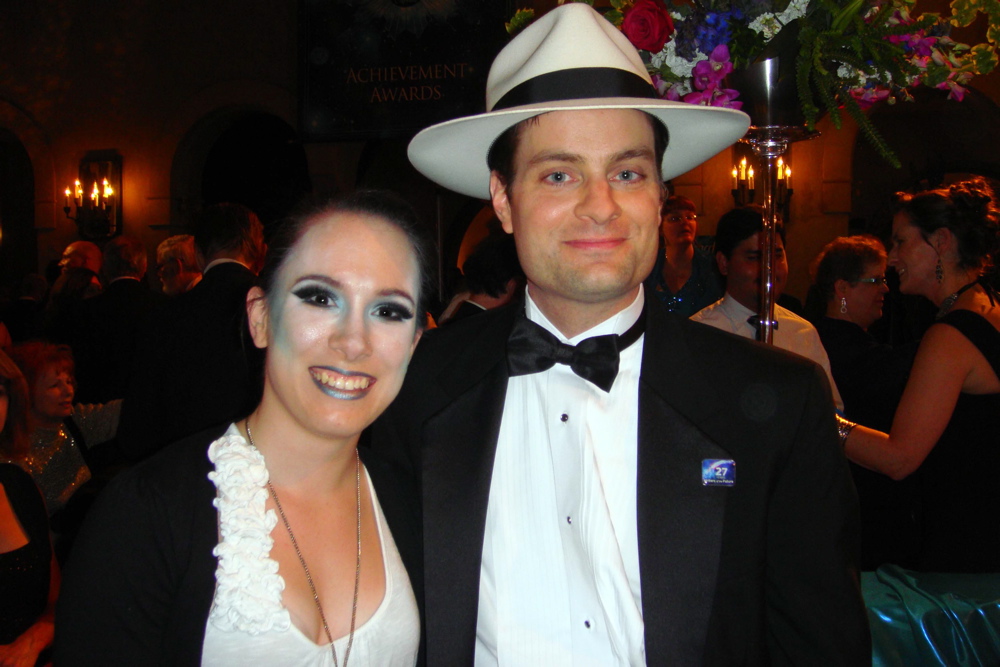 Fred Jordan and I with his illustration, now hanging from my wall: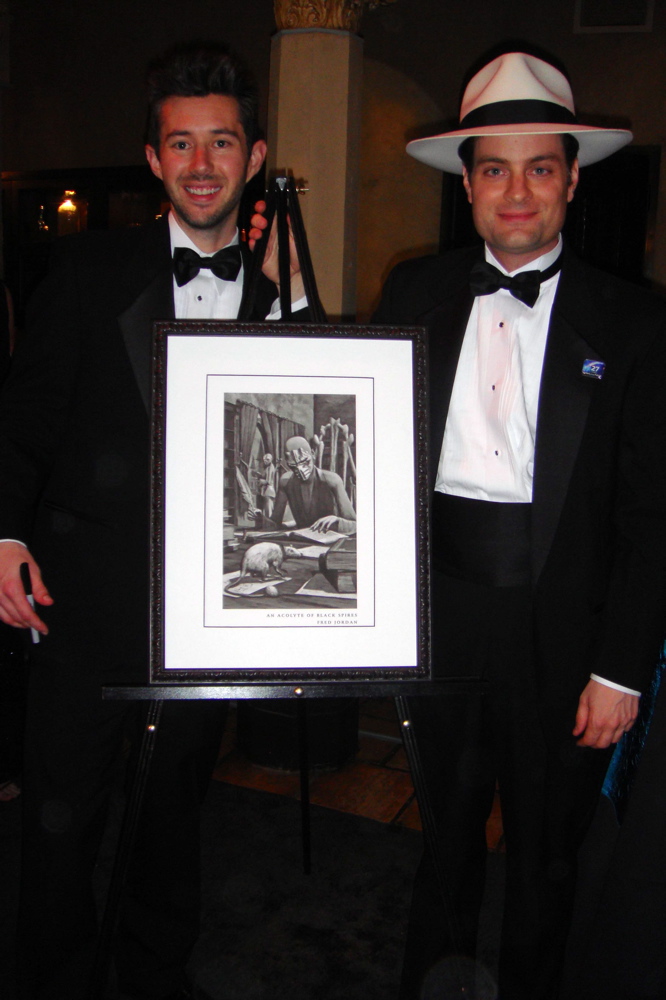 All the writers and illustrators standing beside their respective easels: