Vincent N. Darlage Reviews Blackdirge's Dungeon Denizens
Vincent N. Darlage Reviews Blackdirge's Dungeon Denizens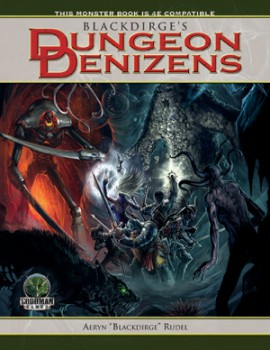 I've had the privilege of reviewing several excellent supplements from Goodman Games over the years, but this particular one somehow slipped by me. Fortunately, Vincent N. Darlage provided a wonderful review of it in Black Gate #14, making the case that this supplement is superior to the official D&D 4th edition Monster Manual:
Aeryn Rudel
Goodman Games (144 pages, hardcover, $24.99)
Reviewed by Vincent N. Darlage
Laid out in easy to read black and white, this book was reminiscent of old school 1st edition AD&D. The artwork was evocative and not overblown like so much modern role-playing art. Dungeon Denizens is well- organized and easier to use than the 4th edition core monster book. The fonts are easier to read, the artwork more interesting, and the monsters are easier to find and understand. In the front, a list of different ways to look up the monsters is offered, giving lists of monsters by origin, type, and by keyword.
The book's full of good stuff. The monsters are interesting and come with more background and information than the core monster book offers. One of my biggest complaints about the core book is the lack of information – this book has information in spades and is a real top notch effort. I could see these monsters in games I might run.
Aside from not knowing (or really caring) who or what Blackdirge is, I found this a superior monster volume. If I were to stick with 4th Edition, I would probably use this book more often than the core book. It has my unqualified recommendation.