Conan Soundtrack: I Got a Fever, and the Prescription is MORE ANVIL!
Conan Soundtrack: I Got a Fever, and the Prescription is MORE ANVIL!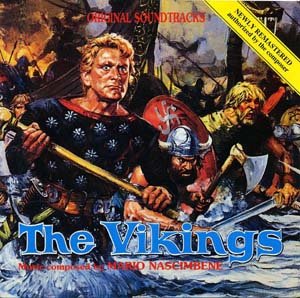 Back in the dim mists of 1997, the City of Prague Philharmonic Orchestra and Chorus recorded a music festival devoted to Warriors of the Silver Screen. All sword and sandal-type movie music. I was thrilled with it, mostly because the conductor clearly appreciated Nascimbene's score for 1958's The Vikings. He liked it so much, he ended the album with a suite from the score, featuring full orchestra and chorus. Who can forget those hearty longship voices singing, during the Viking funeral at the end:
Kirk Douglas! Kirk Douglas!
You should have worn your eyegear while training falcons!
I think. Wow, Taras Bulba too! Talk about a blast from the swashbuckler past. That one's so old, Yul Brynner had hair. Great album, and well worth hunting up.
One of the most tantalizing pieces in the set was taken from Poledouris's Conan The Barbarian (the "Conan Theme," to be precise). It featured every metal percussion instrument you could think of, including a hammer and anvil, pounding in time to the Conan music. If a swordfight could be rendered on sheet music, Paul Bateman scored it. After that, I always wished I could get the whole soundtrack done with such innovative orchestration.
In 2010, my musical wet dream finally showed up. Topless. On a rocket sled.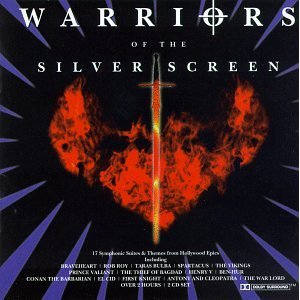 After all, the Poledouris score to Conan the Barbarian is the greatest piece of Sword & Sorcery music ever written. If you don't agree, well, we fightin.' The only other contenders for that title are Trevor Jones's Excalibur and maybe Bernstein's Heavy Metal score, but I'm open to other opinions.
The two disc compilation from Prometheus features, again, the City of Prague Orchestra and Chorus, this time under the able Nic Raine.
Now, I'm the first to say that Poledouris conducting Poledouris should be considered definitive. But there were instrumentation shortcomings with the Rome recording. Also, the digital music technology circa Varese Sarabande's "dawn of the CD technology" was based on analog. Yes, I had this record on vinyl. (First saw the movie at a drive-in, as a matter of fact. It rained. And my date stayed as tightly buttoned up as one of Patton's lead tanks.) The instruments sound as if they're lined up single-file, like Sandpeople to hide their numbers.
On the other hand, you have this, with percussion recorded on an Audix CX111 and Decca Tree Ambients. 7 ambient and 36 close mics. Click tracks. Phase 4 heads! 600 horsepower through the wheels! She's meanness set to music and the bitch is born to run!
Take, for example, the opening scene music when Thulsa Doom's riders first appear. There are three trumpet calls heralding the pounding "Riders of Doom" music. The orchestration is such that they locate each call from a different spot on the auditory soundstage, as though they were signals echoing from hilltops. Tell me the digital tech guys didn't put in a lot of long nights thinking their capabilities through.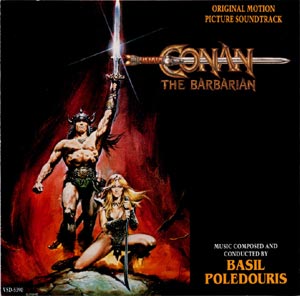 There's more percussion on this album than has been used in Western Civilization since Tchaikovsky lined up sixteen muzzle-loading cannon for the 1812 Overture. If it pounds, clatters, or rings, it's on this score. They even acquired one of those giant Japanese drums made famous by Kodo. I can see Nic Raine, chomping on his cigar, on the phone now. "I want the biggest fucking drum on the planet, capisce? How much that cost to get it here? Well, I don't give a crap. Let's do this thing. I want the audience to need their goddammed fillings replaced after the smoke clears…"(1)
From the liner notes (remember those?):
Basil had always been disappointed that the Rome orchestra on the soundtrack wasn't able to provide every desired instrument. We were able to correct this for the new recording with percussion including: anvils, anchor chains, ankle bells, 2 bass drums, crotales, darbuka drums, glass and porcelain chimes, glockenspiel, Japanese war drums, marimba and its huge brother the bass marimba, 2 full sets of timpani, tubular bells, vibraphone, xylophone, plus all manner of military drums, cymbals, gongs, ethnic instruments and toys.
There are 14 pieces of scoring never before available, plus some alternate cuts. One of the best is the Wolf Witch piece. Nothing but eroticized percussion, evocative of the raid on the bandit camp from Kurosawa's Seven Samurai. Then there's the Mikolos Rosza-like Pit Fight music. You can almost hear the blood splash. Then there's The Street of the Deviants. Now, if you're not whipping out your Visa to get a never-before-heard musical refrain from Conan called Street of the Deviants where Conan TKOs a camel, just retrieve your gonads from the coat check girl at the door on your way out.
Get this complete Conan score and other fine movie music at screenarchives.com. Lots of rarities and they're enthusiasts, well worth supporting.
(1) I rather doubt Nic Raine is foul-mouthed, smokes a cigar, or talks like a Scorsese gangster, but it seems to work with the percussion paragraph, so go with it.