Now Shipping: Black Gate 15
Now Shipping: Black Gate 15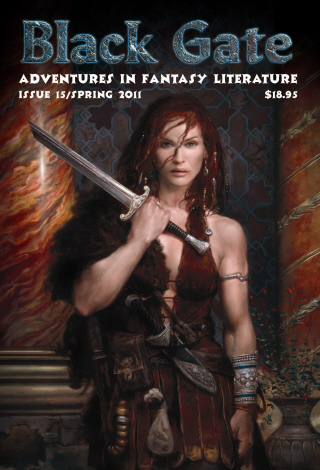 Black Gate 15 is now shipping.  The last subscriber copies will go in the mail early next week.
The issue is for sale through our online store.  Copies are available to US subscribers for just $18.95 including shipping (just select "Sample Issue"), or as part of a 2-issue subscription for only $32.95.
BG 15 is a massive 384 pages, packed with the best in modern adventure fantasy. This issues's theme is Warrior Women, and it includes tales of female warriors, wizards, weather witches, thieves, and other brave women as they face deadly tombs, sinister gods, unquiet ghosts, and much more. Contributors this issue include Frederic S. Durbin, Harry Connolly, John Fultz, Darrell Schweitzer, Chris Willrich, Maria V. Snyder, and many others.
BG 15 is notable for more than just its epic size. This issue we celebrate the triumphant return of the fantasy series to our pages — starting with Jonathan L. Howard's "The Shuttered Temple," featuring the resourceful thief Kyth the Taker in the sequel to "The Beautiful Corridor" (BG 13).
Plus the opening installments of five exciting new serials that will continue in Black Gate 16 and beyond:
Vaughn Heppner's rollicking sword & sorcery tale of the barbarian Lod in a decadent city, "The Oracle of Gog"
Brian Dolton's Yi Qin the exorcist in a mystery of the ancient Orient, "What Chains Binds Us"
John C. Hocking's tale of The Archivist and a deadly desert tomb, "A River Through Darkness and Light"
Jamie McEwan's intrepid prince Tanek and his desperate solo campaign against a relentless invader, "An Uprising of One"
S. Hutson Blount's story of Hautbee and the dread sorceress Gambetzo, "The Laws of Chaos Left Us All in Disarray"
That's not all.  Howard Andrew Jones offers up a tantalizing slice of his blockbuster new novel The Desert of Souls; and Mike Resnick , Bud Webster, Scott Taylor, and Rich Horton contribute feature articles. Plus over 30 pages of book, game, and DVD reviews, edited by Bill Ward, Howard Andrew Jones, and Andrew Zimmerman Jones — and a brand new 4-page Knights of the Dinner Table strip! Plus 22 full pages of art from Kent Burles, Storn Cook, Mark Evans, John E. Kaufmann, Jim & Ruth Keegan, Malcolm McClinton, and many others. See the complete Table of Contents here.
Don't forget our Back Issue Sale: any two back issues for just $25 plus shipping — including the massive BG 14 (384 pages, cover price $18.95) and our rare first issue (regularly $18.95).
Cover by Donato Giancola.