Matthew Wuertz reviews Black Gate 15
Matthew Wuertz reviews Black Gate 15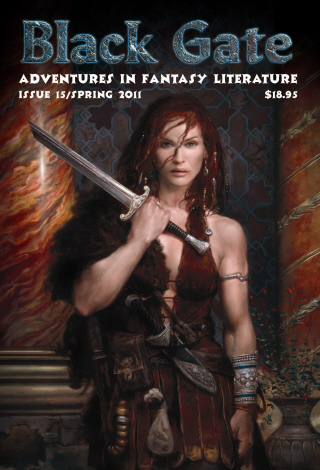 Long time reader Matthew Wuertz contributes one of the first reviews of our latest issue on his blog, Adventures of a Fantasy Writer:
The immense tome is now the standard size, much to the chagrin of mail carriers everywhere. For those who love adventure fantasy, however, it is a welcome change for the bi-annual publication.

This is one of the best issues I've read. There is a mix of old and new writers, and there is even a theme around strong female protagonists (or "Warrior Women" as John puts it). If you've read Black Gate in the past but have fallen away from it in recent times, this is an excellent issue to jump back in with. If you've never read Black Gate, check them out.
Matthew has particular praise for "World's End" by Frederic S. Durbin, "Groob's Stupid Grubs" by Jeremiah Tolbert, "The Lions of Karthagar" by Chris Willrich, and stories by John R. Fultz and Maria V. Snyder. But he reserves his highest praise for "The Oracle of Gog," the first story in an ambitious new S&S sequence by Vaughn Heppner:
Lod has survived as hunters' bait and seeks to end his slavery. Meanwhile, the Nephilim, Kron, comes to his master – the terrible Firstborn named Gog – who has peered into the future and sees a threat. Kron's mission is to eliminate that threat, while Lod's mission is to simply survive in his newfound freedom. This was my favorite tale within the issue. Heppner's narrative style wrapped me into each scene and into the characters' minds. I hope to see more stories of Lod in future issues.
Read Matthew's complete review here.
You can get more details on Black Gate 15 here, and purchase copies for just $18.95 (shipping included) at our online store.