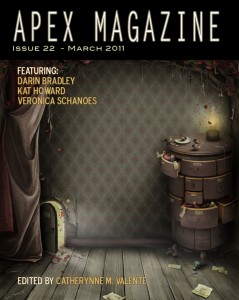 What do you get when you take Monster Blogger Mike Allen, a dark spark of poetic genesis, two fellow Rhysling Award winners, Sonya Taaffe and Nicole Kornher-Stace, throw them in a cauldron together with some wine and a few herbs and some sauteed onions…
Oh, wait. Sorry. Forget it. You know how they say never shop when you're hungry? Well, same rule applies to writing blogs. Where was I?
Right! This POEM! "The King of Cats, the Queen of Wolves."
It's up at Apex Magazine, which continues to publish fine fiction and poetry under editor Catherynne M. Valente, not to mention an often fun blog.
Speaking of Fun Blogs! There I was, trawling Facebook, when all of a sudden, out of nowhere, this LINK jumped out at me! It howled, it gnashed its teeth, it gnawed upon my ankle. Surrending to the inevitable, I followed it.
And LO! See what Francesca Forrest (Go FRANCESCA! I shall put you in my soup as well! ) hath wrought:
AN INTERVIEW with the aforementioned three poets of the aforementioned poem, which you really should go and read before you read the interview. After which, you should read the outtakes of the interview.
For, as fantasy author and poet Saladin Ahmed said in the comments section beneath the poem:
"Dear God, that was just wonderful."