Selling SF & Fantasy: 1969 Was Another World
Selling SF & Fantasy: 1969 Was Another World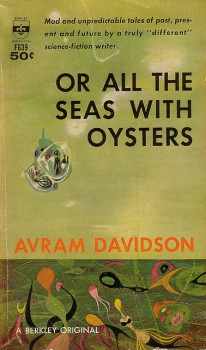 I think what many aspiring writers today fail to grasp — very much as a result of not having been there — is that 1969 was another world.
Books were sold and distributed very differently. Big chain bookstores barely existed. There were many times more distributors than there are today. Science fiction mass-market paperbacks could be found in drugstores or bus stations, as could the digest magazines.
It was the time of the much maligned "science fiction ghetto" but really a time of innocence, in which we tended to assume that if you made it into the pro ranks, you were there for life. (How else could a writer as unimportant as, say, Robert Moore Williams have continued to publish over 40 years?)
There were no post-novelist writers, i.e. good, respected writers still writing but unable to sell novels anymore.
As somebody commented in one of those very early SFWA Forums I have been reading (I have them back to issue #3), "It's a seller's market. We've never had it so good." This from about 1968.
It was a time in which a writer did not have to worry about selling his fourth novel because of the sales record of the previous three.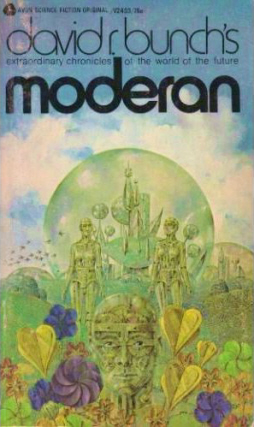 Pretty much anything with a science fiction cover on it sold about as much as anything else with a science fiction cover.
There might be exceptions, like Dune or Dangerous Visions or Stranger in a Strange Land, but, by and large, a science fiction book sold like a science fiction book and it did not much matter what was in it.
This gave the field a tremendous freedom it has now lost. It meant that things like Avram Davidson story collections or RA Lafferty books were actually possible in mass-market paperback.
It meant you could even do David Bunch's Moderan as an Avon mass-market paperback.
I will defer to the superior knowledge of writers such as Silverberg and Malzberg, who have a much greater understanding of this period from personal, insider experience, but I have the impression that ANY SF paperback of that period could be relied on to sell somewhere between 30-50,000 copies.
I can remember Lin Carter telling me about one of the Ballantine Adult Fantasy books which was an utter disaster and sold a mere 15,000 — pretty good by today's standards.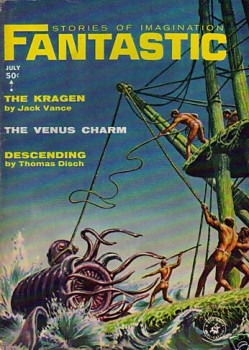 I can also remember when Ted White drew gasps of horror by announcing that the most recent issue of Fantastic magazine, circa 1975, had sold a mere 25,000 copies on the newstand.
This was the lowest prozine circulation figure on record. Of course none of the magazines are doing nearly as well as that today.
Of course, too, there were real NEWSTANDS then, something many of you perhaps do not remember.
What I think illustrates how different the time was quite well is a letter that James Blish wrote to the British fanzine Cypher about 1972, in which he bemoans that one of his Ballantine short-story collections (not named, but it seems to be So Close to Home, 1961) has "died the death" and gone out of print in mass market paperback AFTER ELEVEN YEARS.
You understand how that just does not compute in today's world. Midlist writer? Story collection in mass-market paperback?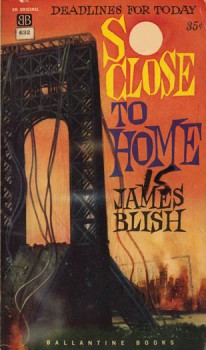 Anything at all in print for eleven years?
The latter-day equivalent of Blish today would probably have his collections published by some fan-run press, print-on-demand. They would never get into bookstores, let alone bus stops.
Unless you understand the period, all the statistics in the world will tell you nothing. History is more a matter of what people experienced and felt than a bunch of numbers.
As for what happened to New Wave science fiction at roughly the same time, well, we cannot help but notice that it was all pretty well flushed out of the system by 1975.
Anything that even looked like New Wave was gone. Publishers went out of their way in cover designs and blurbs to emphasize that their books were NOT New Wave.
I remember a blurb on a Larry Niven paperback that explicitly said, "science fiction in a grand old tradition."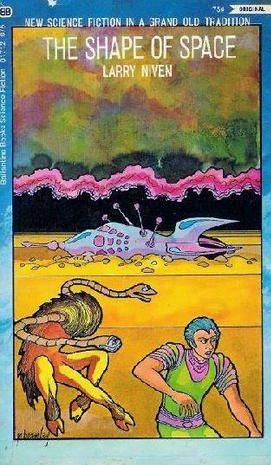 Of course what was happening, inevitably, was that science fiction was fragmenting, and it was no longer ONE THING the way it was doubtless perceived by many in the 1950s.
(That it was never one thing, even in Gernsback's day is another matter. Perception equals reality.)
If you talk to readers from that period (i.e. fans who are about sixty today) many of them will tell you that the term "New Wave" became label for something to AVOID. If a book looked like New Wave, they did not buy it.
Many will tell you that the reason for this is that they were outraged by Damon Knight's anthology series Orbit, and felt burnt, and were much more wary about trusting a book just because it was packaged as science fiction.
(I recently quoted a lady who, decades later, defined "New Wave" as "those awful Orbit stories.")
Of course the true picture today is hard to get, because nothing stays in print anymore.
Even the classics are gone. (Is James Blish's Hugo Award-winning A Case of Conscience in print anywhere? I mean the Ballantine text. I know the novelet is in a NESFA book.)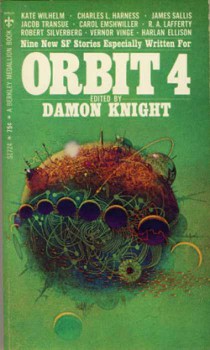 It would be more instructive to look at what had been in print in 1970 and was gone by 1980.
Many of the writers associated with Orbit and New Worlds were gone. Writers like Langdon Jones and Peter Tate (Anybody remember that name?), and in general, a lot of British writers were disappearing from the American market. (This is the period in which Richard Cowper and DG Compton disappeared.)
This is why we can't discuss the anthologies Roger Elwood as an isolated phenomenon like a specimen on a slide. Too many things were happening simultaneously.
But there WAS a reaction against the New Wave. This DID push a lot of things out of the American market.
---
Darrell Schweitzer's last article for us was Urban Legends and What Entropy Means to Me.