First Teaser Trailer for Conan the Barbarian
First Teaser Trailer for Conan the Barbarian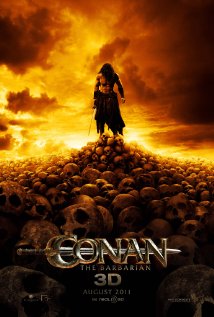 The first trailer for the new 3D remake of Conan the Barbarian has been unleashed this week by Lionsgate.
The trailer is quite brief (one minute), and doesn't show much beyond a lot of smoke, a few poorly nutritioned villains, a beautiful woman, and some goofy dialog on how to achieve contentment through slaying.  That part reminded me of Buffy the Vampire Slayer, but with more swords and a better soundtrack.
The brief film description reads:
The tale of Conan the Cimmerian and his adventures across the continent of Hyboria on a quest to avenge the murder of his father and the slaughter of his village.
I don't remember anything about his father in the original version. But as Howard Andrew Jones is constantly telling me, I probably need to read more Robert E. Howard.
The finished film will be released on August 11, 2011.  It is directed by Marcus Nispel and stars Jason Momoa (Stargate: Atlantis) as Conan.
The film also stars Ron Perlman, Stephen Lang, and Rose McGowan, who's preparing her own take on a Robert E. Howard character in the upcoming Red Sonja, also scheduled for release this year.