Apex Magazine 22 Released
Apex Magazine 22 Released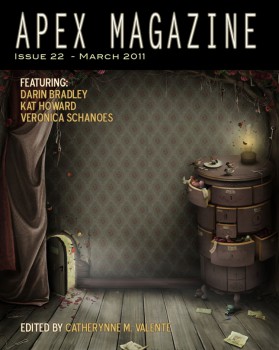 Apex continues to mock us by releasing their issues on time.
Their latest includes two works of original fiction, "The Dust and the Red" by Darin Bradley, and "The Speaking Bone" by Kat Howard, as well as a reprint: "Rats" by Veronica Schanoes.
Poetry contributors are Jessica Wick with "Quest," and the trio of Mike Allen, Sonya Taaffe, and Nicole Kornher-Stace, with  "The King of Cats, the Queen of Wolves."
Apex is edited by popular author and legendary supermodel Catherynne M. Valente.
We last covered Apex with issue 21 and issue 19.
Apex Magazine 22 is sold online for $2.99; it's also available in Kindle, Nook, and a downloadable format through Smashwords. Previous issues are available through their back issue page.
Why not subscribe and get 12 issues for just $19.99? Support one of the best new fantasy magazines on the market. You know you want to (or as my English teacher would say, you know it is that which you want).