Apex Magazine 19 arrives, featuring C.S.E. Cooney
Apex Magazine 19 arrives, featuring C.S.E. Cooney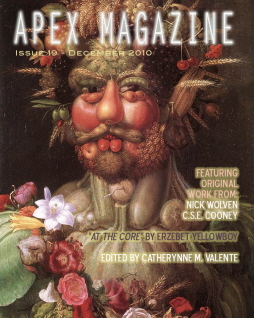 I'm very jealous of how punctual this magazine is. I suspect a pact with demonic forces.
The new issue of Apex has arrived, featuring fiction from our own marvelous C.S.E. Cooney, with her short story "Pale, and from a Sea-Wave Rising," as well as less interesting people like Nick Wolven, with "Radishes," and Erzebet YellowBoy, with the reprint "At the Core" (from Fantasy Magazine, 2006.)
The issue also includes two poems: "Flourless Devil's Food" by Shweta Narayan, and "Cancelled Flight" by W.C. Roberts.
Apex Magazine 19 is sold online for $2.99; it's also sold in a downloadable, pay-what-you-want edition through Smashwords, and in a Kindle edition (for 99 cents). Previous issues are available through their back issue page.
C.S.E.'s complete story is online. Here's the first line:
Aquilo Vickery Makepeace, anatomy student, was looking for corpses when he found the undine.
I like it. We last profiled Apex with their November Arab/Muslim issue, the October issue and in August (also featuring C.S.E. Cooney).
Apex Magazine is edited by the ethereally beautiful Catherynne M. Valente. To join the Apex Army and donate, subscribe, or help spread the word, visit their online store.