Apex Magazine #15 arrives, featuring C.S.E. Cooney
Apex Magazine #15 arrives, featuring C.S.E. Cooney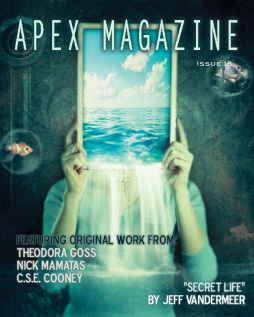 Apex Magazine #15 was published on August 2, featuring fiction from Theodora Goss, Nick Mamatas, a reprint by Jeff VanderMeer — and "Dogstar Men," a short poem by Black Gate blogger C.S.E. Cooney.
This is the first issue of Apex from new editor Catherynne M. Valente; Jason Sizemore continues as the publisher. The striking cover is by Brazilian artist Priscila Santos.
We last profiled Apex in June when they announced they were re-opening to submissions.
C.S.E. Cooney's poem "Dogstar Men" is available here. Her most recent work for Black Gate, the three-part (and suitably epic) blog opus Exploring Fantasy in Metal, begins here.
Apex Magazine #15 is available online; the complete magazine is also available in a downloadable, pay-what-you-want edition through Smashwords, and in a Kindle edition (for 99 cents). Select back issues are also available through their excellent Magazine Archive.
To join the Apex Army and donate, subscribe, or help spread the word, visit their online store.